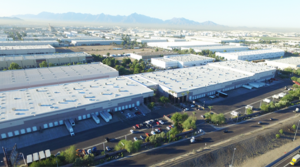 Sale Reflects Dynamic Industrial Market in West Phoenix
PHOENIX, AZ – Colliers International in Greater Phoenix has negotiated the $33,55 million ($74 PSF) sale of a 452,271-square-foot industrial facility in West Phoenix occupied by Breakthru Beverage Group.  The sale represents one of the highest prices paid per square foot in the market, reflecting the strong dynamics of the West Phoenix industrial submarket.
"The West Phoenix submarket is experiencing a record year in absorption and rental rates are increasing in most sectors," says Don MacWilliam, executive vice president of Industrial Properties at Colliers International in Greater Phoenix.  "Vacancies have dropped and rents are rising as our city's growth has absorbed much of the inventory left vacant in the recession.  Built space is becoming scarce and infill land on which to build is being depleted.  While we are not completely recovered, it is a very exciting time in the Valley's real estate market."
MacWiliam and his partner, Payson MacWilliam, negotiated the sale transaction.  An affiliate of Cohen Asset Management purchased the property in a double escrow transaction from Breakthru.  Breakthru acquired the property through a 2011 purchase option agreement with owner Crexus AZ Holdings 1, LLC.
The Breakthru Beverage property has an irreplaceable location at 1115 S. 47th Avenue, fronting Interstate 10 at 43rd Avenue.  Breakthru Beverage Group, the largest wine and spirits distributor in Arizona, was created in June 2016 with the merger of Breakthru Beverage and Alliance Beverage.  Alliance Beverage has occupied the building since 1999 and Breakthru Beverage has signed a new 15-year lease with an affiliate of Cohen Asset Management (Brad Cohen and Branden Delf.) Cohen Asset Management now owns and controls nineteen buildings in Greater Phoenix totaling more than 3.76 million square feet of space.
"This asset hit the market at the perfect time when cap rates were compressed and the property offered a 15-year lease with a strong credit tenant," says MacWilliam.  "The sales price clearly illustrates how strong the market is and how far we have come in the past five years."
The state-of-the-art Breakthru Beverage facility features 30'+ clear heights, an ESFR sprinkler system, and 50,000 square feet of office space. The MacWilliam team negotiated Crexus' acquisition of this facility and an adjacent 187,611-square-foot building in 2011. The MacWilliams are currently negotiating with another purchaser for that additional property.