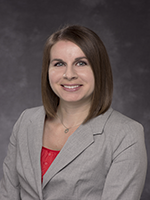 Phoenix – CBRE is pleased to announce that Brittany Warnica has been named Marketing Director for the Arizona market. For the past three years, Ms. Warnica has been leading the marketing efforts in Phoenix and recently took on management of Tucson marketing.
"We are so pleased to elevate Brittany to Marketing Director for Arizona. She is a tenured, well-respected member of the CBRE team. Over the course of her career with CBRE she has shown exceptional ability to meet the high expectations of our professionals and our clients, and leads her team to do the same," said CBRE's Director of Operations Cathy Teeter. "Brittany's intimate knowledge of what it takes to successfully market commercial real estate projects coupled with her excellent communication and organizational skills, provide an advantage in guaranteeing she will be an excellent leader and mentor for marketing and communications professionals in Arizona."
As Marketing Director for Arizona, Ms. Warnica leads an in-house team of graphic designers, communications specialists, marketing specialists and business services coordinators, working with clients to develop marketing strategies and produce a full range of marketing collateral. With a strong background in design, she is actively involved in the day-to-day development of materials and also oversees the production of the team at large to ensure brand management, compliance and quality.
Ms. Warnica began her career with CBRE in 2006. She is a graduate of Arizona State University and holds a BS in graphic design.