TUCSON, ARIZONA, October 21, 2022 — WAA Investment Holdings, LLC (April Worden, CEO) closed on +/-50 Acres of mixed-use commercial land in the La Estancia MPC for $6,250,000. The parcels are located at the entrance of the master-plan at the SWC of Kolb Road and Camino Boleadoras. The land was purchased from SBH La Estancia LP (Sunbelt Holdings, Sean Walters, President/COO).
Brown Worden Properties is the largest family-owned, woman led owner of self-storage in the Tucson metro market under the A Family Storage brand. The company is also involved in several mixed-use commercial, industrial, and multi-family developments in multiple markets. The land will be held for investment and developed over time.
The property is part of the La Estancia MPC and is centrally located along the Kolb Road Corridor, southeast of Tucson. The land is north of Interstate-10 and across the street from the University of Arizona Science and Technology Park. La Estancia is south of Amazon distribution and Port of Tucson and near Tucson's major employment and retail services.
Will White and John Carroll of Land Advisors Organization in Tucson handled the transaction.
White commented "La Estancia is one of the top locations in Tucson. It has become a very busy address with very little commercial/retail to support the large amount of current and future residential that is underway. In addition, the Kolb road corridor has blown up with new industrial and retail development. This is an excellent location."
For more information, White and Carroll can be reached at (520) 514-7454.
To learn more, see RED Comp #10247.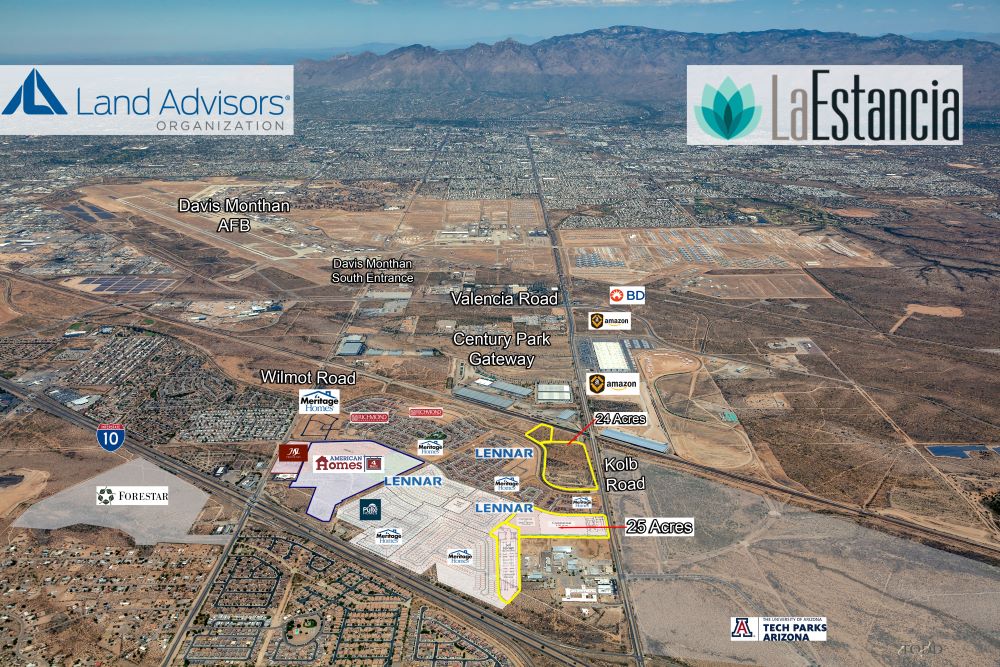 Builders Map at La Estancia 2022