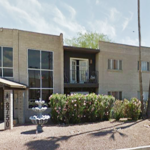 Nexpa Properties of Sausalito, CA (Kelsey and Jordan Gootnick members) purchased the Desert Atrium Apartments at 8750 E Cooper Street in Tucson for $1.69 million ($45,676 per unit).
Desert Atrium was built in 1972 and consists of a single two-story, garden-style apartment building situated on a 1.31 acre lot. The property has four different floor plans including two studios, (24) one-bedroom/one-bath, (10) two-bedroom/two bath units and one one-bedroom / one bath large deck unit, totaling approximately 28,256 rentable square feet.
The seller had done extensive interior & exterior renovations in 2013 and 2014 including: Major roof repairs including roof drains; Rebuilt second floor balconies Installed new irrigation and landscaping; Replacement of all iron railing bring them up to code; Pool decking, equipment and pool all brought up to code; Complete renovation of laundry room and all new equipment which is owner owned; Replaced 100 gallon water heater; Replaced 11 sliding door with French doors; installed security key card system; rehabbed 32 of 37 units new cabinets, tile and appliances.
The property is on the eastern part of town and situated 0.2 miles south of Broadway Boulevard, a major east-west arterial running through Tucson. The asset is conveniently located near many entertainment, retail and employment hubs including Saguaro Vista Shopping Center, Eastside City Mall, North mall Centre, University of Phoenix, St. Joseph's Hospital, Cornerstone Hospital, Davis- Monthan Air Force Base, and Tucson International Airport.
Tony Reed of Long Realty represented the seller, Desert Atriums, LLC of Biddeford, ME and Allan Mendelsberg of Cushman & Wakefield | Picor represented the investor in the transaction.
To learn more Reed should be reached at 520.918.5189 and Mendelsberg can be contacted at 520.546.2721.
For more information see RED Comp #3216.