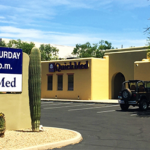 Cotlow Ash V LLC (Dean P. Cotlow and Bruce Ash) sold the 5,184-square-foot Northwest Allied Physicians' QuickMed Center at 1622 North Swan Road in Tucson for $1.9 million ($366.51 PSF) in a net-leased sale.
The property is located on Swan Road just south of Pima Street and approximately one mile from the Tucson Medical Center Campus and is one of two QuickMed Centers in Tucson.
The seller purchased the building vacant in December 2014, to renovate it for lease to Northwest Medical Center as a QuickMed Center.
The property was 100% occupied at time of sale with a 9+ year lease term and annual rent increases.
QuickMed Centers provide urgent and primary care family services, with no appointment needed, with lab and x-ray capabilities on-site.
This transaction was the upleg in a 1031 exchange for the buyer, the George P. Emmett Revocable Trust of Pleasanton, California (George P Emmett, Trustee).
Mike Sandahl of CBRE in Tucson represented the seller and Steve C. Tao of STR Advisor Group of Los Gatos, California represented the buyer.
For more information, Cotlow can be contacted at 520.881.8180 and Sandahl should be reached at 520 323.5115.
To learn more, see RED Comp #4056.