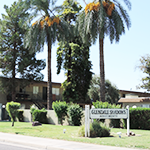 GLENDALE, AZ – Cushman & Wakefield of Arizona, Inc. completed the $4,975,000 ($36,050 per unit) sale of the Glendale Shadows Apartments, 5902 W. Royal Palm Road in Glendale, Arizona.
The apartment building was constructed in 1975 and contains 138 units totaling 95,765 square feet ($51.95 PSF). The property, which includes nine buildings, currently boasts 93 percent occupancy.
Terra Vista Investments USA of Vancouver, Canada purchased the property from the Monterey Group of Phoenix.
"The buyer plans to reposition the property and take advantage of the location and excellent visibility on 59th Avenue," said Brett Polachek, Senior Director in the Multifamily Group with Cushman & Wakefield.
Polachek and Jim Crews of Cushman & Wakefield successfully marketed the property for sale and represented the seller.
To learn more Polachek can be reached at 602.229.5989 and Crews is at 602.229.5992.