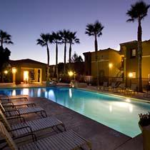 Canadian-based, Murray Hill Development Ltd. (aka: MHA Group) of Edmonton, Alberta (Eric Wiedman, principal) purchased the Desert Harbor Apartments at 8885 West Thunderbird Road in Peoria for $26.7 million ($101,000 per unit), through an affiliate, Desert Harbor, LLC.
The 264-unit apartment complex in approximately 250,000-square-feet was built in 2000 on 14.87 acres near Luke Air Force Base, Boswell Hospital, Cardinal Stadium, Arrowhead shopping, and Rio Vista Community Parkway.
Established in the 1960s, Murray Hill Developments Ltd. and its affiliates are actively involved in Real Estate activities in Western Canada and the United States. The company owns and manages quality apartment communities in Alberta, British Columbia and California. Murray Hill Developments Ltd. developed Edmonton's Brentwood Village, the first condominium property in Canada (registered December 20, 1967).
This is the buyer's second acquisition in the Phoenix market and also owns the Condominiums at 6515 West McDowell Road in Phoenix. The company is interested in finding other multifamily investment properties in Arizona.
NorthMarq Capital in Phoenix handled financing of the transaction.
The seller of Desert Harbor was Archstone Desert Harbor, LLC an affiliate of Equity Residential Trust of Chicago (NYSE: EQR).
Brad Goff and David Lord with Apartment Realty Advisors of Arizona of Phoenix represented the seller. Rue Bax, Alon Shnitzer, John Kobierowski, Eddie Chang and Doug Lazovick of Orion Investment Real Estate in Scottsdale represented the investor.
For more information, Wiedman can be reached at (780) 488-0288. The contact for EQR is Cydney White, in Chicago at (312) 928-1301. Donahue at NorthMarq can be readhed at (602) 508-2211. Goff and Lord should be contacted at (602) 252-4232. Bax, Shnitzer, Kobeirowski, Chang and Lazovick can be reached at (480) 634-6934.
Login for additional information.
[ismember]Sale Date: 8/27/2013. Exact sale price: $26,682,000. Per the affidavit, the sale price included $79,200 worth personal property.[/ismember]