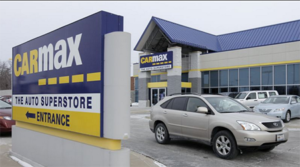 TUCSON, ARIZONA – CarMax, Inc. (NYSE: KMX), the nation's largest retailer of used cars, has assembled 5.45 acres in two transactions at  22nd Street and Alvernon Way in Tucson for $2.75 million ($11.50 PSF) for a new CarMax Auto Superstore site in Tucson.
The site is a portion of the former 19 acre DeAnza Drive-in Movie Theater which was Tucson's last operating drive-in movie theater sold to Phoenix-based, Evergreen Development from De Anza Land and Leisure Corporation in 2009. The drive-in theater had operated on the site since 1951.
With building permit in process, this will be the company's second store in the Tucson area and fifth store in the state. The other CarMax Superstore in Tucson is located at 4755 N Oracle Road and has the capacity to stock approximately 248 used vehicles of nearly every make and model. CarMax customers can also request transfers of almost any vehicle to this store from other CarMax locations throughout the country.
CarMax disrupted the industry more than 25 years ago by offering a high integrity car-buying experience customers want that's transparent and stress-free. Since that time, CarMax has continued to revolutionize the experience through customer-focused technology innovations. Approximately 90% of CarMax purchasers start on CarMax.com or the CarMax mobile app. Customers can browse CarMax's nationwide inventory of approximately 50,000 vehicles, hold a vehicle for a test drive, schedule an appraisal, and even get pre-qualified for financing before visiting the store. CarMax stands behind their vehicles with a 7-Day Money-Back Guarantee and a limited warranty that covers a vehicle's major systems for 90 days or 4,000 miles, whichever comes first.
Greg Furrier, Principal and Rob Tomlinson, Retail Specialist with Cushman & Wakefield | PICOR, handled these transactions and sold the original land to Evergreen Development. Russ Shaw with Ventura Properties was also representing the seller, WAA Alvernon, LLC, that had purchased the property for a storage facility.
For additional information, Furrier should be contacted at 520.546.2735 and Tomlinson is at 520.546.2757. Shaw should be reached at 520.906.4987.
To learn more, see RED Comp #7176 and #7177.