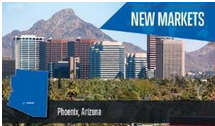 Coldwell Banker Commercial Advisors (CBC Advisors), the largest Coldwell Banker Commercial affiliate in the world, recently announced commercial real estate veterans Chuck Wells and Trask Switzenberg will lead the new CBC Advisor's Phoenix office as well as the expansion of brokerage services throughout the region.
"Over the past year, CBC Advisors has experienced great success in our expansion across the country," said Lew Cramer, President and CEO of CBC Advisors. "Growing a full-service brokerage operation in Phoenix is a natural progression to our national expansion strategy. We will offer the tools and resources in an operating platform here in Phoenix that our clients have identified across the country as an industry leader in all the markets we serve."
CBC Advisors currently operates 30 offices in 11 states with over 500 associates.
For more information, CBC Advisors can be called at 602.884.8345.