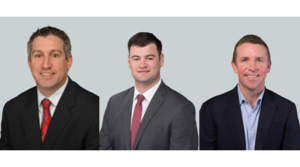 PHOENIX, Ariz. – November 29, 2022 – CBRE has announced that three professionals in its Phoenix office have achieved title promotions.
Copper Fratt has been promoted to Executive Vice President. He joined the firm in 2008 and is focused on industrial investment, building sales and industrial tenant representation and leasing. In the last five years, Mr. Fratt has closed more than 10 million sq. ft. of combined lease and sales transactions nearing $806 million in value.
Bryson Fricke has been promoted to Senior Vice President. Mr. Fricke is a member of the Phoenix multifamily investment properties team. Since joining CBRE in 2018, he has supported the team in the marketing and sales of multifamily properties across the Valley. Mr. Fricke helps develop client relationships through thorough economic analysis, supporting them through acquisition and disposition.
Max Bippus has been promoted to Senior Vice President. Since joining the company over 20 years ago, he has specialized in retail tenant and landlord representation and acquisition and disposition of retail properties. A trusted advisor to his clients, Mr. Bippus provides expert retail market analysis to identify and secure optimal locations.
PHOTO: (l to r) Max Bippus, Bryson Fricke, and Cooper Fratt.