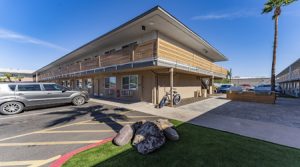 The 237-unit property is currently undergoing renovations
PHOENIX – July 31, 2023 – CBRE has secured $16.575 million in financing for the Sunset Sound Studio Apartments at 2307 – 2323 East Van Buren Street in Phoenix.
Bruce Francis, Shaun Moothart, Doug Birrell, Bob Ybarra, Nick Santangelo and Jim Korinek with CBRE Capital Markets' Debt and Structured Finance team secured a non-recourse fixed-rate cash out refinance through Freddie Mac, on behalf of the owner, InTrust Property Group.
"InTrust Property Group successfully implemented a business plan that completely transformed the asset by providing significant upgrades to the interior and exterior of the building and enhanced amenities for its residents," said Shaun Moothart, executive vice president at CBRE. "This is a great example of creating value by way of investing in and significantly improving the quality of a project while offering much needed affordable housing for the community."
Sunset Sound Studio Apartments is a 237-unit garden-style multifamily community in the heart of Phoenix. Built in 1977, the property has been renovated to include upgraded amenities like a new resort-style pool and fitness center. Additionally, 54 units have been upgraded with premium finishes, providing tenants an affordable place to live.
InTrust Property Group is a California-based opportunistic private equity firm specializing in value-added real estate investments. InTrust's portfolio spans the Phoenix, Las Vegas, Salt Lake City, and Oklahoma City metros.