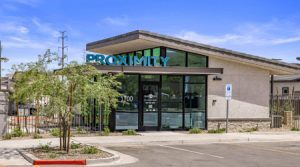 The $27.2 million BTR community is located at the base of South Mountain
PHOENIX – August 4, 2023 – CBRE has negotiated the sale of Proximity Baseline, an 80-unit build-to-rent (BTR) property in Phoenix for $27.2 million. Griffen Tymins, Sean Cunningham, Asher Gunter, Matt Pesch and Austin Groen of CBRE's institutional multifamily practice in Phoenix represented the seller in the off-market deal.
"This closing was accomplished through a coordinated effort by both the buyer and seller during a challenging capital markets environment," said Mr. Tymins, CBRE's BTR expert in Phoenix. "We are happy with the successful sale and look forward to building continued momentum in the build-to-rent space."
The community is located at 1700 East Baseline Road in Phoenix and was sold by Avenue North to CVG Properties. The detached and duplex single-family residences come in either one- two- or three-bedrooms and feature 10' to 14' high ceilings, stainless steel appliances, vinyl flooring and smart home technology. Each unit has a private backyard with a patio.
Proximity Baseline represents CVG's first BTR acquisition in Phoenix and will be renamed The Linq @ South Mountain. The BTR sector has boomed in recent years across the Valley. Since 2018, developers have delivered more than 10,000 BTR units in Arizona.
CVG Properties is a real estate investment firm that targets multifamily properties throughout the West and Sunbelt states with solid fundamentals, attractive risk-return profiles and substantial value-creation potential. The company targets markets throughout the Western and Sunbelt states, primarily focusing on California, Arizona, Utah and Texas.
"The community is a high-quality BTR asset positioned to outperform," added Tymins. "The community's central location, market-leading amenities and well-designed floor plans are exceptionally appealing to renters who want the attributes of a single-family home as well as the community amenities of a professionally managed multifamily property."
Avenue North is a Phoenix-based third-party multifamily general contractor and real estate investment firm focused on multifamily developments and value-added communities. Since the company's inception, Avenue North has acquired or built over 2,200 multifamily units across Arizona, Nevada and Colorado.
"Avenue North was pleased to acquire and entitle the land, build the community and oversee the lease-up. CBRE did an outstanding job navigating a complex transaction. Looking ahead, we are eager to find more great opportunities for our investors," said James Emert of Avenue North.