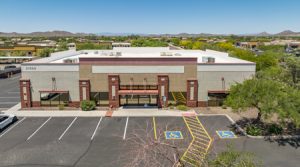 PHOENIX – October 27, 2023 – CBRE arranged the $12.68 million sale of the Arrowhead Ranch Business Park in Peoria, Ariz., to a California-based private buyer undergoing a 1031 exchange.
Geoffrey Turbow, Gary Cornish, Anthony DeLorenzo and Nick Williams of CBRE's Investment Properties, alongside CBRE's Evan Koplan and Serena Wedlich, represented the seller, Pacifica Real Estate Group, in the transaction.
"This multi-tenant flex-industrial property is a unique investment opportunity and was purchased before launching a marketing campaign," said Mr. Turbow, senior vice president at CBRE. "This buyer was attracted to the property's strategic infill location within the Arrowhead Ranch community and lack of nearby small bay flex competition and development."
The business park is located at 21461 – 21509 North 78th Avenue in Peoria and has six buildings on 9.56 acres, with each of the 18 suites featuring its own private secured yard.   Built in 2007, the transaction included 11 of the 18 units within the park, totaling nearly 50,000 sq. ft.
"At $254 per sq. ft. at a sub-5% (in-place) cap, this is another great example of an out-of-state private 1031 buyer aggressively chasing infill flex-industrial with high barriers to entry," added Mr. Cornish. "Despite volatility in the economy driven by rising interest rates, we continue to see strong demand for well-located flex-industrial properties across the Phoenix metro at low yields."
The multi-tenant property is in a rapidly expanding area of the Valley. During the first half of 2023, the Northwest Valley saw a decrease in vacancy and a significant increase in asking leases, primarily due to the manufacturing suppliers moving close to the new Taiwan Semiconductor Manufacturing Company's new facility.