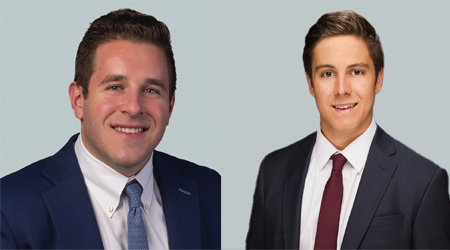 PHOENIX – October 6, 2023 – CBRE announced that two professionals in its Phoenix office have achieved title promotions. Tanner Ferrandi and Ben Farthing have both been promoted to Vice President.
"Both Tanner and Ben are extremely important members of our team in Phoenix," said Paul Komadina, Senior Managing Director for CBRE in Phoenix. "They are extremely dedicated to their craft and providing exceptional guidance to their clients, and they will continue to help shape the Phoenix commercial real estate market for many years to come."
In five years, Mr. Ferrandi has established himself as an industrial leasing and sales expert by combining his ability to research and analyze market trends and guide his client's real estate decisions. In the past three years alone, Mr. Ferrandi has been part of successfully closing over 3.5 million sq. ft. in lease and sale transactions, amassing a total value of nearly $500 million in consideration. In 2022, he was named the 2022 NAIOP Emerging Broker of the Year and has actively participated in the organization's developing leader program since 2018. Mr. Ferrandi holds a bachelor's degree from the University of Arizona.
As a team member on CBRE's net lease property group Phoenix, Mr. Farthing executes the sales of single-tenant and multi-tenant retail investment properties. Since joining the team in 2018, he has successfully closed 66 transactions totaling over $185 million. Before joining CBRE, he was a leasing specialist at RED Development. Mr. Farthing holds a bachelor's degree from Arizona State University and was elected as an appropriations senator for the undergraduate student government. He has been selected twice by AZ Big Media as an up-and-comer to watch in Phoenix.