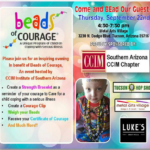 The Southern Arizona CCIM Chapter will host an inspiring evening to benefit the 'Beads of Courage' Program on Thursday, September 22nd from 4:30-7:30 p.m. in the beautiful Metal Arts Village at 3230 N. Dodge Blvd., Suite J, Tucson, AZ 85716
Beads of Courage is a reliance-based intervention program designed to support and strengthen children and families coping with a serious illness. Through the program children tell their story using colorful beads as meaningful symbols of courage that commemorate milestones they have achieved along their unique treatment path.
"Every bead tells a story of strength, honor and hope."
Upon enrollment into the program, each child is given the Beads of Courage bead color guide with a detachable membership card. Their Beads of Courage journey begins when each child is first given a length of string and beads that spell out their first name. Then, colorful beads, each representing a different treatment milestone are given to the child by their professional health care provider to add to their Beads of Courage collection throughout their treatment as determined by the Beads of Courage Bead Guide.
The Beads of Courage® Program is available for the following:
Cancer and Blood Disorders
Cardiac Conditions
Burn injuries
Neonatal ICU Families
Chronic Illness
All Program bead guides are developed in collaboration with experts in the field (nurses, doctors, child life specialists and social workers) so that each bead guide reflects meaningful acknowledgment of a child's treatment journey.
Come tour the Beads of Courage headquarters and create a Strength Bracelet as a reminder of your courage to Care for a child coping with a serious illness.
After the tour, The Southern Arizona CCIM Chapter will provide drinks and dinner in a great setting.  Tucson HopShop will have a variety of pint selections & Luke's Pizza will be serving pizza and salads.
100% of the donations received during the event will benefit Beads of Courage. The public is invited to be a part of this event, your time and donation will make a difference in the lives of these children.
RSVP to Aaron Reid at Tucson Association of Realtors. 520-382-8791 or email Aaron at aaron@tucsonrealtors.org