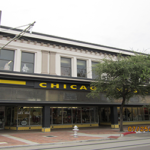 After nearly 50 years at the same downtown address, the iconic Chicago Music Store at 130 E Congress Street in downtown Tucson has changed hands for $1.85 million ($77 PSF).
Chicago Music Store has moved to 45 South 6th Avenue, continuing to do business in downtown Tucson as it has for nearly 100 years. This is the fourth location Chicago Music has occupied downtown since 1919. Making this move a continuation of a long history of the Chicago Music Store as one of Tucson's oldest family-owned businesses in downtown.
The buyer, an affiliate of Peach Properties, is a well- known downtown developer (Ron Schwabe, manager) that has tentative plans to repurpose the building on Congress for multi-tenant use and is reviewing various architectural proposals for the building.
The historic, two-story, downtown building is approximately 24,000-square-feet with mezzanine, and constructed in 1916.
The buyer has also been awarded the joint redevelopment project with the City of Tucson, of the Ronstadt Transit Center across the street. See RED News November 19, 2015 for details.
Schwabe told us there has already been a lot of interest shown in a repurposed space by smaller tenants for a variety of uses that include restaurant, retail and office uses.
The seller, Chicago Store Properties, was represented by Buzz Isaacson with CBRE in Tucson.
For more information, Schwabe can be reached at 520.798.3331 and Isaacson should be contacted at 520.323.5151.
To learn more, see RED Comp #3697.