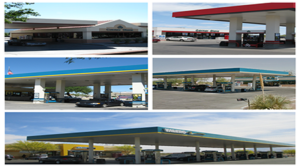 TUCSON, ARIZONA — The Canadian parent company of Circle K, Couche-Tard, that owns San Antonio-based Corner Stores brand of convenience stores, closed on five Tucson locations last week for $5.16 million in a bulk sale, or an average sales price of $1,092,475.
If your Corner Store hasn't rebranded yet, it will next week to a Circle K as signage is changed at the following locations:
8395 N Thornydale Road, Tucson (at Cortaro)
10410 N La Canada Dr, Oro Valley (at Lambert Lane)
2088 W Orange Grove Road, Tucson (at La Cholla Blvd)
4685 E Valencia Road, Tucson (at Benson Highway)
920 E 22nd Street, Tucson (at Park Ave.)
The Quebec-based Alimentation Couche-Tard is the parent company of Tempe-based Circle K, and  agreed to its $3.7 billion merger with CST Brands Inc.in 2016.
CST Brands became a Fortune 500 company overnight upon spinning off from Valero Energy Corp. in 2013. Then after selling off more than 200 stores to satisfy antitrust regulators in the U.S. and Canada. Couche-Tard's global operations, Statoil, Couche-Tard, Mac's, and Circle K are its key brands. will have gained more than 1,300 stores in both countries via the merger, expanding its footprint to almost 9,500.
The Circle K acquisition established the Canadian firm as a major player in the US market while Statoil moved it into Europe. The fragmented US convenience store market and trend by major oil companies to cast off their retail operations has afforded Couche-Tard ample opportunity to acquire small, independently-operated chains, and occasionally a big fish. With about 70% of its sales (even more in the US) coming from gas, Couche-Tard is vulnerable to fluctuations in motor fuel prices. To protect itself from such volatility, the retailer is focused on developing its in-store merchandise sales (especially fresh foods), which return higher margins and are less volatile.
CST's Corner Stores eventually will be all be branded Circle K.
To learn more, see RED Comp #5839, #5838, #5836, #5835 and #5834.