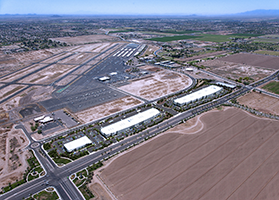 CHANDLER, AZ – Last Thursday, October 23, the Chandler City Council approved the Planned Area Development (PAD) zoning request and site plan approval for Chandler Airport Center, a general industrial park at the SWC of Germann and Cooper Roads in Chandler.
Meritex Chandler, LLC, a wholly owned subsidiary of Minneapolis-based Meritex, will develop Chandler Airport Center in association with Tempe-based Metro Commercial Properties, who will provide development and property management services to Meritex for the three building industrial park. The Meritex/Metro development team has engaged the brokerage team of Chris McClurg and Ken McQueen, principals with Lee & Associates of Phoenix, to handle leasing for the property.
The 20-acre site is located immediately north of the Chandler Municipal Airport, with direct access off  the Loop 202 from the Cooper Road exit.  The project will be constructed in two phases.  The initial phase will include two rear-load general industrial buildings measuring 122,323 and 89,832-square-feet respectively. Both buildings will feature bay sizes divisible to +/- 7,500 SF, 124' truck courts, heavy power, 24'-30' clear height and parking in excess of 2.0/1,000 SF.
The second phase of development will consist of a one- or two-story office/flex building of 26,000 to 48,400-square-feet, with parking ranging from 4 to 7 per 1,000 SF, available on a build-to-suit for sale or lease. McClurg and McQueen will also represent the developers in the marketing of the 3.4 acre parcel.
"The site has fantastic visibility on Germann Road with over 2,000 feet of frontage along with direct access from four public streets," stated Dan Williams, Chief Investment Officer of Meritex. "The project will provide excellent opportunities for general industrial users to gain prominent visibility for their wholesale & service facilities and locate closer to their customer base in the Southeast Valley."
"The product is designed to serve both small and large tenants alike. Though we will deliver two large contiguous blocks of warehouse space to the Southeast Valley that are currently in short supply, we have designed the buildings to functionally subdivide to as small as 7,500 SF, each bay will be equipped with both a truck-well and a grade-level door," added Janet Herlyck, Vice President of Metro Commercial Properties.
The Meritex/Metro development team anticipates completion of the final project design specifications in December of this year with a planned 1st quarter 2015 ground breaking for construction. Availability of the completed buildings is targeted for mid-summer 2015. McCall Architects and CEG Engineering worked together in the architectural and civil engineering for the industrial park. No contractor has yet been selected for construction.
"There is a substantial amount of momentum in the Chandler Airport submarket today, reflective of the abundance of amenities, skilled labor, proximity to quality affordable housing and pro-business support from the City of Chandler," said Tony Hepner, Principal of Metro Commercial Properties. "This is an exceptional master planned business environment and our industrial park will provide much needed space to further expand the employment base in and around the Chandler Airport."
To learn more Chris McClurg can be reached at 602.954.3766, and Ken McQueen is at 602.474.9564.