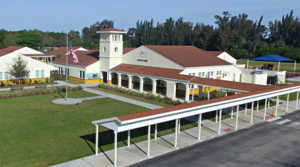 Sale Marks One of the Largest Educational Property Transactions
PHOENIX, Arizona – A portfolio of five charter school properties in Florida has been sold for $71.48 million.  The transaction is one of the country's largest educational-based property deals, striking a new level of prominence for this category of commercial real estate.
"This marks a watershed moment in the educational asset sector," says Todd Noel, Executive Vice President and National Director Education Services Group.  "This sale helps to validate education-occupied properties within the institutional asset category of commercial real estate."
Noel, who is based in Phoenix, and Miami-based Colliers agent Achikam Yogev handled the sale transaction.  ESJ Capital Partners of Aventura, FL sold the five schools to Charter School Capital of Portland, OR.
The portfolio includes the following charter school properties:
Imagine South Vero – 6000 4th St. in Vero Beach, FL
Imagine School at Broward – 9001 Westview Dr. in Coral Springs, FL
Championship Academy of Distinction Davie Campus – 3367 N. University Dr. in Davie, FL
Renaissance Charter School at Plantation – 6701 W. Sunrise Blvd. in Plantation, FL
Kids Community College – 10030 Mathog Rd. in Riverview, FL
The five schools are located in highly desirable growth markets and are operated by highly recognized charter school organizations.  Florida is a national leader in school choice and the charter school environment shows no indication of slowing down.  Charter schools are tuition-free public schools created through an agreement or "charter" typically between the school and the local district school board.  During 2015-16 school year, more than 400 new charter schools opened.  Charter school enrollment in Florida grew by almost eight percent from fall 2015 to fall 2016, demonstrating growing parental demand for high-quality educational options.
The five schools had an average of 17 years remaining on current lease commitments.  The properties range in size from 2.06 acres to 17.4 acres.  Property under-roof square footage ranges from 46,418 square feet to 74,992 square feet.
Charter School Capital is the nation's leading provider of funding for charter schools, including growth capital and facilities financing.  Charter School Capital has provided in excess of $1 billion in funding for charter schools, providing high-quality education to more than 550,000 students across the united states.