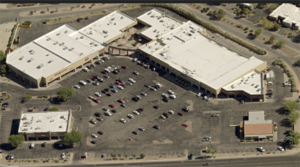 TUCSON, Arizona– Holliday Fenoglio Fowler, L.P. (HFF) announces the $24.5 million ($248 PSF) sale of and the $17.8 million acquisition financing for Colonia Verde, a 98,937-square-foot, grocery- and pharmacy-anchored neighborhood shopping center in Tucson.
The HFF team marketed the property on behalf of the seller, Westwood Financial Corporation of Los Angeles and represented the buyer, ROK Properties, Inc of Vancouver, Washington.  Additionally, the HFF team placed the 10-year, fixed-rate loan with a global financial services firm.  HFF will service the loan.
Currently 99 percent leased, Colonia Verde is home to anchors Safeway and Walgreens in addition to Ace Hardware, Wells Fargo, Panda Express, Coldstone Creamery, Jamba Juice and more.  The center, which was completed in 1974 and renovated in 1993, comprises three multi-tenant buildings and one outparcel pad.  Situated on 8.6 acres at 7111-7189 East Tanque Verde Road in northeastern Tucson, Colonia Verde is located on the northeast corner of Sabino Canyon Road and Tanque Verde Road, which have combined traffic counts of more than 95,000 vehicles per day.  The center is adjacent to the upscale Catalina Foothills community, and more than 84,000 residents earning an average annual household income of $64,436 live within three-miles of the center.
The HFF retail investment advisory was led by managing director Gleb Lvovich, who represented the seller.  Senior director Nick Kassab worked with the buyer, who was in a 1031 exchange from another HFF-brokered property, Fourth Plain Shopping Center, in Washington earlier this year.
The HFF debt placement team representing the new owner included senior managing director Jeremy Womack.
"The sale of Colonia Verde Shopping Center represents HFF's second significant grocery-anchored retail trade in Tucson in the past four months, and the pricing achieved underscores investor demand for grocery/drug-anchored retail," Lvovich said.  "Arizona has seen significant inflows of capital from key West Coast markets, and HFF's collaborative platform has been a significant driver of this capital into Arizona."
"We are thrilled to have facilitated a successful 1031 exchange into a strategic asset for one of our great clients," Kassab added.  "HFF's debt team, led by Jeremy Womack, was instrumental in driving yield and ensuring the capital stack met our client's needs."
HFF, acting by and through Holliday GP Corp., is a commercial mortgage broker licensed with the Arizona Department of Financial Institutions.
HFF, HFF Real Estate Limited, HFF Securities L.P. and HFF Securities Limited are owned by HFF, Inc. (NYSE: HF).  For more information, please visit hfflp.com.
For more information, Lvovich can be reached at 949.253.8800, while Kassab is at 503.224.0444 and Womack can be contacted at 602.648.8700.
To learn more, see RED Comp #5307.