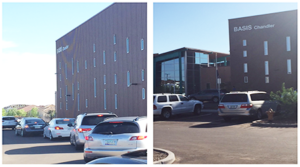 The rise of empirical retail development continues to emerge in the Arizona commercial markets.   A distant memory of land-filled dirt, deserted streets, and minimal economy will now just be another page in the Arizona history books.  It will illustrate how developers, property owners, and commercial real estate brokers met the demands for demographically driven consumers to create a new metropolis for urban city life.   Although e-commerce has gained significant momentum in recent years, industry professionals have used their expert knowledge in the market by building desirable lifestyle and trendy entertainment retail centers all across the valley.
The restaurant and retail industry is an unremitting evolution as we continue to observe the innovative and unique culinary enterprises opening in the valley.  Phoenix was listed in the Top 10 "Rising Star" Foodie Destinations with the likes of Chris Bianco's, Pizzeria Bianco in Phoenix, known to foodies to have the best pizza in the U.S.; Taco Guild's unique location in an old church and Sam Fox's creation of True Food Kitchen for clean and healthy options.  In addition, more out-of-state restaurant concepts are making their way to Arizona for expansion because lease rates are steady and timing is imminent.
The bottom line is e-commerce will fall short to the dining and entertainment experiences that consumers tend to physically enjoy.  As a result, the economic and cultural centers for retail development have been profoundly influenced by "The Experience."  SVN's, Desert Commercial Advisors and the Director's of Retail Leasing & Investment Sales, Rommie Mojahed and Mary Nollenberger have been detrimental to the growing developments across the valley, including the locally owned and nationally recognized, Blue 32 Sports Grill by CNN as the "Top 101 of the best sports bar in the U.S."  The directors of the SVN retail team just leased their 4th location in the 4,800 square-foot space at the new upscale lifestyle & entertainment retail center, Chandler Crossings.
Meeting the Economic Demands for Commercial Development
The biggest challenge retail developers and property owners are faced with is determining the tenant mix that would be more attractive to the community.  They also have to consider the building design and space requirements that create an effervescent venue appealing to the millennial shoppers.  Most importantly, economic leaders work strongly on creating an environment that shapes the community.
SVN Advisors, Mojahed and Nollenberger have been working with James Smith, the Economic Development Program Manager for the City of Chandler for over eight years now.   The City of Chandler works very hard in building a team to help and maintain the award winning lifestyle that Chandler has been acknowledged for.   Smith stated, "A well-planned community has set aside space for a balanced quality of life, including land for employment, quality residential development, open space for parks and recreation, a good mix of retail, and entertainment and restaurant options."
With all of those key elements in mind, commercial real estate brokers have to weigh in all the demographic variables that developers and landowners must consider before investing capital.  This is about building relationships and creating trustworthy connections between the developers, the economic leaders, and the commercial advisors that are responsible for finding the best mix of tenants in any development.  The Shoppes of Chandler Heights was notably recognized as was one the biggest eye-soars in Chandler.  It was a partially constructed retail development that was surrounded by acres of dirt.  "We always knew that this property had the potential of becoming a viable investment property simply due to the location and its surrounding, but we just had to find the right developer to believe in it as much as we did," Nollenberger stated.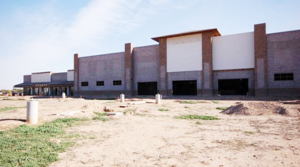 The Shoppes at Chandler Heights sat partially-constructed for years and new owner, Jim Horvath and the SVN advisors, Mojahed and Nollenberger have already begun adding a new tenant mix to the upscale lifestyle + entertainment development now called Chandler Crossings.
Back in to 2014, Rommie Mojahed stated, "It will be something very complementary to the residential area….. that will be very exciting if it gets done."  After a few deals fell through and a little over one year later, Jim Horvath with The Shoppes at Chandler Heights, LLC/ABT., Inc. purchased the multimillion properties in the beginning of January 2016. It is now referred to as Chandler Crossings.
The upscale lifestyle + entertainment development, Chandler Crossings is believed to be one of the greatest Cinderella stories of retail development in Chandler.  A property that was the complaint of many Chandler residents will soon have the option to take a seat at Blue 32 Sports Grill to watch football on Sundays. Nearby residents and millennial shoppers will also get to enjoy some of the other retailers moving in this mixed-use space totaling approximately 74,000 SF.  This includes retail offerings ranging from 1,440 SF of space for Jenny's Nails & Spa and another for Berkshire Hathaway Residential Real Estate, a 4,800 square-foot music school called East Valley School of Music to an 8,700 square-foot space for Synergy Personal Training facility. Austin-based company, Alamo Cinema Draft House will take up 35,000 SF for entertainment theater space and when the movie is over, you can drop in to Dairy Queen, adding another 3,000 SF.  Commercial real estate advisors, Rommie Mojahed and Mary Nollenberger were the primary brokers who put all the leasing deals together for the new tenants.
Basis Charter Schools just recently opened up for the fall school year.  SVN Advisors sold the multimillion properties to the charter school back in January of 2016.  The school enrollment offers Grades 5-12 and currently has 905 students and is "expected to have another 100 or so," said Katie Perry, the Communications Director for BASIS School. This 2-story school has approximately 70,000 square foot at this location and will have plenty space for adding more educational programs to their current curriculum.  Perry stated, "The new location is closer to where our families live and our building is a welcome help to our growing population."
"This is an area with excellent demographics.  There has been and continues to be significant residential development as the economy continues to recover.  We believe that the residents of this area will welcome and support the amenities to be provided at Chandler Crossings," Smith is optimistic and believes the developers and property owners look at Chandler because of the demographics, high household incomes, highly-educated workforce, great school system and overall excellent quality of life.
Clear across the valley in Surprise is another promising development that just broke ground on July 5th.  Greenway Marketplace developers Bill Sladek and Pete Simms also purchased the property at the beginning of the year.  "We have been searching high and low all over the valley for the last several years for our Dairy Queen business," Simms said.  "There are seniors, young families, professionals at lunchtime, teens after school (and as employees)."
Shoppers are looking for the most convenient shopping experiences.  Health, beauty, and fitness are the largest growing types for new business in traditional shopping centers.  That means health care centers, medical offices, gyms, and hair salons are usually in a plaza anchored by a grocery shopping plaza.  The Greenway Marketplace location sits directly across a neighborhood market Walmart, surrounded by a dance studio, nail salon, Farmers Insurance agency, Barro's Pizza and a Rivas Mexican food restaurant.  The new Dairy Queen is slated to be opened by December of this year.
This signalized street corner location is in a prime area surrounded by four large high schools and the Surprise Tennis & Racquet Complex that hosts a stop on the Champions Tour, attracting tennis legends John McEnroe, Andre Agassi, Anna Kournikorva, and more. This 25 court venue is also open for tennis players of all skill sets.  Greenway Marketplace is also within 2 miles of the Surprise Stadium which hosts many events from Movie Night in the Park, teen Dodge ball tournaments, soccer tournaments, haunted mazes, recreational nights and let's not forget the stadium is the spring training home of the Kansas City Royals, Texas Rangers, and the Arizona Fall League's Surprise Saguaros.  With all this in mind, shop owners and retailers should not waste any time in joining the Dairy Queen at Greenway Marketplace.
Owner Pete Simms said, "Our goals for the future are to have a thriving shopping center with strong players to serve this growing community."
Grocery-anchored shopping centers provide convenience and satisfy the demands of increasingly busy patrons.  They adapt to cater to the everyday needs of the community, so when you have a major grocery retailer, service-related businesses, and a variety of dining options all located within the same shopping plaza investors believe this is the best way to capitalize on their return of investment.
"The Experience"
E-commerce purchases may be the most simplified and time-effective way to acquire what you need, but in this day and age retailers are building aesthetically pleasing developments and bringing on unique retailers that engages the customer's social experience.  A wide-ranging of personal services such as nail and beauty salons, health and fitness centers, restaurants, and cinemas and theaters make up the entirety of the retail shopping plazas.  Grocery stores are not just grocery stores anymore, as developers are incorporating wine bars and coffee shops, sushi stations, and juice bars that provide an interactive experience for their customers.  Chandler Crossings in Chandler, Arizona and Greenway Marketplace in Surprise, AZ have all of the retailers combined.
Developments that Jim Horvath from Chandler Crossings and the Dairy Queen owners Bill Sladek and Pete Simms are creating real world shopping experiences that are personalized and appealing.  Emerging restaurant concepts such as Slim Chickens, Jack's Urban Eats, Tokyo Joe's, Burger Lounge, Café Yumm, Banzai Bowl, SunLife Organics, Sweetfin, or Salata's are just several unique restaurants that bring unique flare, juicy bites, and natural health foods to mind that fit the Arizona mold for new restaurants.  The Arizona market is an open door of opportunity for investors and by bringing such original eateries and the newest trends to the Arizona valley, consumers will be lining up at the door for "the experience." The time is now!
The Brokers – The Relationship
Let's agree that the most important part of any commercial real estate project is the site data and the bottom line.  This is a business after all.  The investors want to make sure their sales investments are viable and/or their lease rates are agreeable. PERIOD!  However, the second most important factor when dealing with commercial real estate is the relationship between the investor, the commercial broker, the developers, the economic leaders, and the financial institution.  Most often, you can't have one without the other.  The investors must rely on the experts in the commercial real estate industry to be trustworthy, knowledgeable, and they must always look out for the client's best interest.   The Directors of Retail Leasing and Investment Sales, Rommie Mojahed and Mary Nollenberger (L-R inset below) have been detrimental in the research and development for retail developments across the valley.
"I have worked with Mary and Rommie for more than eight years now, and I consider them to true partners in helping to develop Chandler," Smith stated.  As the Economic Development Program Manager in the City of Chandler, Smith said the city has been very aggressive in assisting with the redevelopment of the areas and they will continue to develop new initiatives.  Smith warmly stated, "We greatly value our relationship with SVN and Mary and Rommie, in particular."
For the investors at Greenway Marketplace, finding just the right market for them was their biggest challenge.  They needed to find a financial partner that could help them put the deal together and they did so right here in Arizona with Horizon Community Bank. "It was refreshing to do business with real people who felt like they were on our team," Pete Simms stated.  That relationship coupled with working with Mary and Rommie for the last 5 years have made it easy to do business in Arizona.  "They have become like family.  Nobody works with more energy, integrity, and positive attitude than these two."
The Future
E-commerce will continue to transform the landscape for trending retailers with real social experiences versus shopping on line as a convenient option.  Consumers will continue to shop and explore multi-tenant shopping plazas that create interactive & energetic atmospheres.  The new metropolis will explode economically by building and creating work/live/play environments in an urban setting.  With all that in mind, the economic growth in the valley in commercial real estate will initiate the interest in capital investments.  More and more investors will realize they should have domestic and international portfolios that create more viable opportunity within populated demographics.
Additionally, we can anticipate the millennial will move into trendy and urban areas to seek enhanced access to job and amenities – from shopping to entertainment to healthcare.  The mixed-use developments will be surrounded by residential communities, entertainment life all within walking distance or short drive away. Retailers will be ramping up for the holiday season and new grocery centers will be thriving.  In short, with over 68 million people living in Arizona, both local and out-of-state retailers should consider expansion in Arizona because the demand for trendy lifestyle and entertainment developments is right now.  SVN Desert Commercial Advisors is right now.
Dairy Queen owner, Pete Simms said, "Rommie and Mary make things happen."
Some Recent Deals in 2016
Village Grove Plaza | $7,000,000 – Sale
BASIS School | $2,625,000 – Sale
Power & Elliot PADS | $648,000 – Sale
Greenway Marketplace PAD | $635,000 - Sale
Chandler Crossings | Alamo Draft House | $14,615,305 – Lease
Chandler Crossings | Dairy Queen | $1,567,500 – Lease
Chandler Crossings | Smart Gym | $1,537,023 – Lease
Chandler Crossings | Blue 32 Sports Bar | $1,369,648 – Lease
Chandler Crossings | East Valley School of Music | $1,240,951 – Lease
Practice Management Specialists | $2,409,907 – Lease