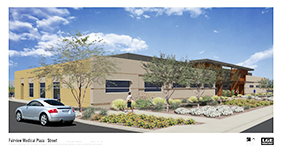 PHOENIX, AZ – LGE Design Build has started construction on a 20,250-square-foot medical office building, Fairview Medical Center, near the Chandler Regional Medical Center and Loop 202.
Brain & Spine Center and Desert Kidney Associates will be the first tenants to open offices in the Fairview Medical Center, 2201 W. Fairview in Chandler, AZ next summer.
"LGE Design Build is seeing increased demand for medical office buildings near regional medical centers and also transportation corridors," said David Sellers, president of LGE Design Build. "The Fairview Medical Center is designed to provide patients with easy access to the parking lot and main entrance, and also assist doctors in providing more individualized care."
Brain & Spine Center's 8,000-square-foot office, more than twice the size of its current location, will include a waiting room, separate procedural area, larger clinical patient space, a large conference room and an educational area. The space is designed to help patients in wheelchairs and scooters maneuver easily. The practice specializes in care for patients with dementia, seizures, Parkinson's disease and other neurological conditions.
"We are designing the clinic based on our patients' needs," said Dr. Hemant Pandey, a partner with Brain & Spine Center.
Desert Kidney Associates' 4,100-square-foot space will include an education room for patients, patient rooms and office space. To reduce wait times, Desert Kidney Associates has numerous offices across the state including in the East Valley, Show Low, Lake Havasu City and Kingman.
"We should see patients within 24 to 48 hours. They won't have to wait months to see a specialist," said Dr. Maninder Chatha, a partner with Desert Kidney Associates.
LGE Design Build constructed a 10,000-square-foot building for Desert Kidney Associates in Mesa a couple of years ago.
"Fairview Medical Plaza has been designed to provide a comfortable surrounding for patients, visitors and staff," said Paul Devers, principal with Cawley Architects in Phoenix.