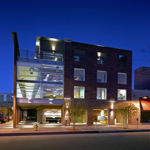 Phoenix, AZ – Downtown Phoenix is experiencing a surge of growth as urban cores across the country are attracting new businesses and new residents. Boosting this growth in the Valley is the Warehouse District in Downtown Phoenix.
Historic buildings are experiencing a comeback in an underutilized area. The goal is to leverage these existing buildings to create affordable and sustainable spaces and utilize new public spaces for mixed-use projects and recreational and community amenities.
Repurposing the Warehouse District is the topic of the October CoreNet Global Arizona lunch at the Phoenix Country Club. Panelists will include Brian Cassidy of CCBG Architects and Mark Stratz of Cushman & Wakefield.
The event is scheduled for Thursday, Oct. 27, at Phoenix Country Club. It begins at 11:30 a.m. Price is $35 for CoreNet Global Arizona members and $70 for non-members. To register go to arizona.corenetglobal.org and click on the Events tab.