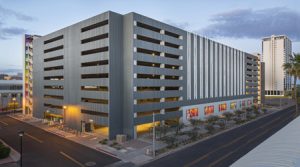 PHOENIX, ARIZ.  (Oct. 6, 2023) – Beginning with bridge girders and then moving on to high-rise cladding, parking garages, and data centers, Coreslab Structures Arizona has been building a concrete future for the past 35 years.
As it celebrates this noteworthy anniversary, it continues to lead the precast concrete industry through vision and innovation.
"What helps a company grow, succeed, and thrive for 35 years? It all starts with leadership. Since our founding, Coreslab has earned a reputation for excellence in service, vision, product, and on-site installation. That reputation was forged by our founders, who have paved the way for a legacy of leadership," said Rick Reichenberg Vice President | General Manager of Coreslab Structures Arizona.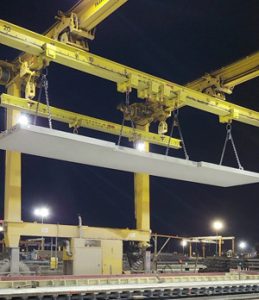 In 35 years, Coreslab Structures Arizona has left an indelible mark in the Valley's rich history of high-profile projects. They include the Burton Barr Central Library in Downtown Phoenix; the Maricopa County Superior Court Tower in Downtown Phoenix; the Catalina Parking Garage at Park Central Mall; and the Compass Datacenter in Goodyear, to name a few.
In celebration of its 35th anniversary, Coreslab Structures Arizona is hosting an open house later this month. Phoenix Mayor Kate Gallego is scheduled to attend the event, along with other local dignitaries and industry partners.
Coreslab Structures Arizona will also be honoring National Manufacturing Day on Oct. 6. Coreslab Structures Arizona has more than 300 employees in its fabrication plant. Throughout 2023 Coreslab Structures Arizona will have produced 15,000 pieces of precast concrete.
The Precast Concrete Institute (PCI) is the industry's governing body that develops, maintains, and disseminates the body of knowledge for the design, fabrication, and erection of precast concrete structures and systems.
PCI Precast Days is celebrated Oct. 9-20, providing the industry with the opportunity to celebrate and showcase their precast concrete projects. PCI promotes the use of precast, prestressed concrete as the strongest, safest way to build. Coreslab Structures Arizona holds an AC, B4 and C4 Certification with PCI.
PHOTO CAPTIONS:
Catalina Parking Garage, general contractor Kitchell (Photo by Larry Kantor Photography).
QTS Data Center, general contractor Clayco (Photo courtesy of Clayco).