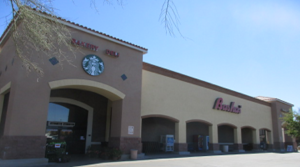 TUCSON, ARIZONA, December 2, 2022 – The Basha's store at 8360 North Thornydale in Tucson, at the southeast corner of Cortaro and Thornydale, sold to an affiliate of Dallas-based, Lincoln Property Company, FSLRO 8360 N Thornydale Tucson, LLC for $7.95 million ($155 PSF). This transaction closed November 14, 2022.
The 51,352-square-foot Basha's store was constructed in 1997 and sits on 4.59 acres. The more than 100 Basha's and affiliates in Arizona were purchased last year by the Sacramento, California-based, Raley's Companies.
Adam Rainey with Gallelli Real Estate in Sacramento, CA represented the seller and the buyer was self-represented.
Then, in a separate transaction, Raley's sold the inline shops and two retail pads at 8300 – 8360 N Thornydale Rd. for $8.25 million ($159 PSF) to Commercial Resources Investors II c/o Paul Warren of Gilbert, AZ. This transaction closed on November 21, 2022.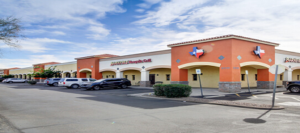 The 51,980 square feet of inline shops and retail pad on 5.99 acres included all the retail center except Basha's and the Wells Fargo Bank on the corner.  The inline shops were 62% leased at time of sale. Tenants at the center include Jerry Bob's Restaurant, Thornydale Dental, and Blacktop Grill. Buyer is also a licensed real estate broker and will be handling the leasing of the five vacant spaces, totaling 19,691 square feet available.
The buyer was represented by Dave Murphy, David Berstein and David Vallecorsa of Bernstein Murphy Companies in Scottsdale, AZ. Adam Rainey with Gallelli handled the transaction for the seller.
For more information, Rainey can be reached at 916.784.2700 and Bernstein, Murphy and Vallecorsa can be contacted at 480.656.1150. For leasing information, contact Paul Warren at 520.477.0784.
To learn more, see RED Comp #10304 and #10318.