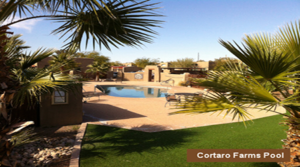 Top Sale in Tucson for Record Breaking 2021
TUCSON, ARIZONA - Atlanta-based, Cortland Growth and Income OP, LP continued its buying spree in Tucson through December 29, 2021, acquiring an additional 754-unit portfolio from Tucson Rental Homes for $245 million ($325,000 per rental). A record-breaking sale in a record breaking year for multifamily sales in Tucson!
The sale was completed on December 29, 2021.
Cortland has significant experience in acquiring, renovating, owning and operating multifamily communities leveraging the services of its construction, design, and property, asset and investment management affiliates.
This portfolio follows a 482-unit sale to Cortland for over $99 million ($205,500 per unit) that closed in October 2021.
Properties in the latest transaction include:
Tucson National Casitas at 3205 W Cortaro Road, Tucson – 119 units for $38 million.
Tanque Verde Casitas at 8701 E Tanque Verde Rd, Tucson – 105 units for $34 million.
Richland Heights Homes at 3360 N Mountain Ave., Tucson – 38 units for $12 million.
Sabino Canyon Homes at 5343 N Sabino Canyon Rd, Tucson – 44 units for $14 million.
Tucson Apartments on Tanque Verde Creek at 9855 E Speedway Blvd., Tucson – 96 units for $32 million.
Cortaro Casitas at 3869 W Cortaro Farms Rd., Tucson – 135 units for $44 million.
La Mariposa Casitas at 10210 E Speedway Blvd., Tucson – 142 units for $46 million.
Another 5 smaller properties with 75 units for $24 million;
and the 3,663-square-foot Tucson Rental Homes leasing office at 4647 N Campbell Avenue, Tucson for $1 million ($273 PSF).
All were stand alone casita-type buildings except for the 96 units at Tucson Apartments on Tanque Verde Creek.
Art and Clint Wadlund with Berkadia Tucson handled the portfolio sale, representing the seller, Tucson Rental Homes in the transaction. The Wadlunds have since announced their move to  Institutional Property Advisors (IPA), a division of Marcus & Millichap (NYSE: MMI). See today's Real Estate Daily News for announcement.
Cortland is a vertically integrated multifamily real estate investment, development and management company focused on delivering resident-centric, hospitality-driven apartment living experiences. Headquartered in Atlanta, Cortland manages and is invested in, directly or indirectly, nearly 200 apartment communities comprised of more than 65,000 homes in the U.S. with regional offices in Charlotte, Dallas, Denver, Houston, Orlando and Tampa.
Cortland is a National Multifamily Housing Council (NMHC) Top 50 Owner and Manager, and the Top Brand Performer for online reputation in 2020.
For more information, Art Wadlund should be contacted at 520.299.7200 and Clint Wadlund can be reached at 520.615.1100.