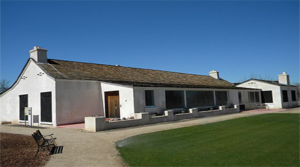 GREEN VALLEY, ARIZONA — A trial run of weekly "Country Markets" at Green Valley's Historic Canoa Ranch was such a success that organizers will continue the events through May 30.
Visitors will find artisans, vendors, food trucks and more will be on hand each Thursday from 9 a.m. to 2 p.m. at the ranch, 5375 S. I-19 Frontage Road in Green Valley.
Historic Canoa Ranch is managed by the Pima County Natural Resources, Parks and Recreation Department. Guests also can enjoy music, local produce and much more at the market.
"We got great feedback on these markets, with attendance increasing each week," Valerie Samoy, NRPR special staff assistant, said. "Not only did visitors have a good time, but vendors were thrilled with the amount of business they conducted. It was a win-win for everyone."
The vendor fee for a 12 x 12 space is $20. All vendor fees go towards the restoration of the Tradesman House for a future research/oral history library and gift shop. Vendors keep their sales.
Prospective vendors should contact Market Coordinators Michael Reece at reece04@yahoo.com or 520-393-0624 or Jo Ream at djream82@gmail.com, 520-909-3218.
The entry gate to Historic Canoa Ranch is open seven days a week from 7 a.m. to 4 p.m. for access to the newly restored Canoa Lake and the Anza Trail. Guided tours of the historic site are conducted Tuesdays and Saturdays at 10 and 11 a.m. Visit www.pima.gov/canoaranch for more info on programs and other guided tours.
In 2001, Pima County purchased and began to restore the 4,800-acre Canoa Ranch complex with voter-approved 1997 and 2004 bond funds. Pima County opened the ranch headquarters to the public in March 2013.