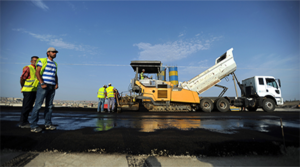 Use of funds would be limited to arterial and collector roads with widespread usage
PIMA COUNTY – In a memo to the Board of Supervisors Jan. 30, Pima County Administrator Chuck Huckelberry has recommended the board consider using a portion of the General Fund to repair arterial and collector streets as part of its fiscal year 2020 budget discussions this spring.
The Pima County Department of Transportation conducted an analysis of arterial and collector roads in the unincorporated areas to determine the residency of motorists who use the roads. This was done to assess the efficacy of using primary property tax funds to pay for road repairs and pavement rehabilitation.
Because all property owners in Pima County pay property taxes regardless of municipal residency, the County Administrator and Department of Transportation officials believe it is important that any expenditure of primary property taxes produce as much of a regionwide benefit as possible. To ensure this tax equity, the Department chose to consider only the roads in the unincorporated areas where at least 40 percent of users reside in the cities or towns of Pima County.
In addition, the Department has included recreational gateway roads that lead to popular regional recreational and tourism destinations. These roads were included because they are frequently trafficked by out-of-area visitors who contribute to the regional tourism economy through lodging bed taxes.
If the Board approves the use of the General Fund for road repairs, prioritization of the roads to be repaired would be determined after the start of the 2020 fiscal year.
Local or neighborhood roads were not considered for the proposed repair and rehabilitation program. The Department of Transportation and county administration are working on a separate plan for repairs of those roads using state shared transportation funds.
The memo linked here includes a map and list of roadways that potentially qualify for repair and rehabilitation under the methodology the Department of Transportation devised.
The County Administrator is expected to submit his recommended FY 2020 budget to the board in April and the board will hold budget hearings in May.