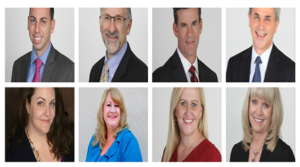 TUCSON, Arizona — Cushman & Wakefield | PICOR salutes its 2016 outstanding achievers who were honored at the company's annual awards luncheon held at the Tucson Country Club on January 17, 2017. In his last year as company President, CEO Mike Hammond recognized Barbi Reuter with the "President's Award for Excellence," citing her increasing leadership roles since joining the firm prior to its inception.
The annual "Winner's Circle" includes the firm's top three producing commercial real estate agents. 2016's top producer was Allan Mendelsberg, Apartment and Investment Sales. Of significance, Mendelsberg is 31-years old, indicative of the youth and energy leading C&W | PICOR into the future. The #2 and #3 producers were Robert Glaser, SIOR, CCIM and Greg Furrier, respectively, frequent top producers during their long tenure with the firm.
2016's highest producers in each division were also recognized:
Industrial:  Robert Glaser, SIOR, CCIM
Retail:  Greg Furrier
Office:  Richard Kleiner, MBA
Multifamily:  Allan Mendelsberg
Director of Property Management, Tina Olson, RPA FMA, presented three awards: "Most Valuable Player" honors went to Debbie Ramsey, long-time accounting professional, while "Manager of the Year" honors went to Teresa Ryberg, a stalwart, team-oriented Property Manager. Gail Davis, CPM earned the "Tenant Relations Award" for the highest overall scoring on tenant satisfaction surveys.
Human Relations Director, Rebecca Fuentes, recognized Mary Utermohlen as the "Admin Employee of the Year" for above-and-beyond support in marketing, research, and employee events.