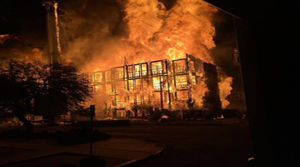 TUCSON, ARIZONA — UPDATE to the fire at student housing construction site this week:  Tucson Fire Investigators worked with fellow public safety partners this week to determine the origin and a cause for Tuesday's early morning multiple alarm fire at the student housing construction site The Mark at Tucson at 10th Street and Tyndall.
Investigators with the Tucson Police Department and the Bureau of Alcohol, Tobacco, Firearms and Explosives (ATF) assisted TFD at the large and complex fire scene. It is standard procedure for TFD to work with the ATF on fire scenes where fire loss is estimated at or above 1 million dollars. With the help of a K9 unit, a black Labrador named Springs, several samples were sent to the lab for testing. TFD and TPD will continue to work together, with the ATF providing assistance as needed.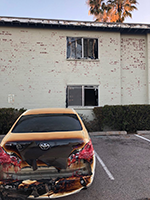 Origin and cause still remain undetermined this time but fire loss estimates have risen to the $8 to $10 million range, making it one of the largest in recent years. Still, so ever thankful no one was injured and the hard work of Tucson Fire crews kept the fire from spreading to nearby buildings in the neighborhood.
Tucson Police Department helped with traffic control and evacuations the night of the fire and the American Red Cross Southern Arizona Chapter worked with those affected at the nearby apartments.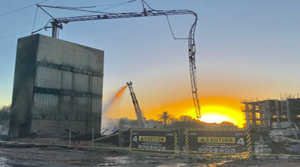 Heat from the fire was so intense that nearby buildings, specifically a smaller set of apartments across the street, were evacuated due to concern they would ignite. Damage to this building included ten apartments and approximately 15 vehicles. Around 30 people were evacuated; the Red Cross was called to the scene to work with those impacted by the neighboring blaze.
The Mark at Tucson sits on 2.56 acres and will have 154-units with 595-beds in a layered 4- going to 6-story building with a five-story parking structure when completed. Amenities will be similar to the Retreat Tucson, at 22nd Street and Park Avenue, with pool, study lounge with computer lab, fitness center and secure bicycle storage.