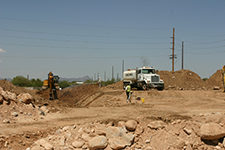 A new 20,000-square-foot built-to-suit Class A office building is going in at Skyline Esplanade Phase II at the northeast corner of Pima Canyon and Skyline in Tucson.
This 20,000-square-foot building is being built for Morgan Stanley (NYSE: MS) a leading global financial services firm providing investment banking, securities, investment management and wealth management services. With offices in more than 43 countries, the Firm's employees serve clients worldwide including corporations, governments, institutions and individuals.
DESCO Southwest the current owner of the property, broke ground recently on the new building.
James Hardman, CCIM of DESCO Southwest represented the owner in the transaction and Tari Auletta, CCIM of Tucson Realty & Trust was representing Morgan Stanley.
Once completed, Morgan Stanley plans to relocate from its current location at 2840 E Skyline Drive at Skyline and Campbell in Tucson, sometime next July.
For more information about Morgan Stanley, please visit www.morganstanley.com.