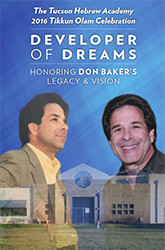 An Inspired Family and Community Tribute to Don Baker
Don Baker who was taken from family and community too soon on January 18, 2016, when his plane tragically crashed, will be honored by the Tucson Hebrew Academy 2016 Tikkun Olam Celebration Sunday, November 6, 2016, at Developer of Dreams in honor of Don Baker's legacy and vision.
Don was a remarkable leader in the real estate community, co-founding and co-owning Larsen Baker LLC. He embodied the Hebrew Tikkun Olam  (translation: "repair of the world", or "construction for eternity") in the sharing of his time, talent and treasure. Don served on the executive committee of the Jewish Federation of Southern Arizona and is the father of the vision for the Tucson Hebrew Academy building we know today. He was the primary champion for the dream becoming a reality.
Not only was he loved and respected by the Tucson business community, his impact on the community at large, including local and national Jewish and secular organizations, will be everlasting in Arizona.
His love of learning and commitment to the value of education lives on through the countless graduates who live the tenets of Jewish values and are dedicated to repairing the world.
His memory endures as a loving husband of Dawn Hunter-Baker, father of Lindsey and Josh, dutiful son of Millie and Joey Baker, rock to his siblings Jan and Norman, and caring ex-husband and friend of Shelley Pozez.
A Jewish proverb states, "the only truly dead are those that have been forgotten." We will never forget your passionate charge to develop a community that fosters dreams. Don knew how to change our world and he made it a better place!
Mark the date for this inspired family and community tribute:
SUNDAY, NOVEMBER 6, 2016
5:30 pm Cocktail Reception
6:30 pm Dinner
At Tucson JCC, 3800 East River Road, Tucson, AZ 85718
Sponsors and the general public are invited to participate in this special tribute, see event invitation here: Don Baker Tribute Invitation and to RSVP go to www.thaaz.org/tikkunolam.
Ads for the tribute book are due by October 28, 2016. For more information, please contact Julee Dawson, 529-3888 x111, jdawson@thaaz.org or Andy Seleznov, CCIM, at 520.296.0200 x218, andy@larsenbaker.com