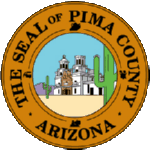 Residents of Pima County's District 1 are fighting back over the recent decision of Pima County Supervisors to take all the road funds away from their district. As one resident expressed in an email being circulating to all District 1 residents, "Those who pay the most get the least! They've made it personal, when the Board of Supervisors took money from our District to repair roads and put it in another District and no doubt it was because Ally (Miller) has been calling attention to the wasteful spending in Pima County."
The act from all accounts appears to have been political retaliation when the Pima County Board of Supervisors at their February 18, 2014 meeting, voted 4:1 to redistribute all of District 1's $872,000 road funds for the remainder of the year into District 4 for road repairs along Colossal Cave Road. In an unprecedented act, Supervisor Richard Elias (District 5) made the motion to move the funds to District 4 "for the children of District 4" and motion was seconded by Supervisor Ramon Valdez (District 2).
Residents of District 1 were left to wonder why road repairs for children in one district held more importance than children in another district. When surely road repairs that have waited as long as 28 years in some cases in District 1 are equally important in both districts as are the children. However, the roads repairs for residents and children of District 1 were put on hold.
The political retaliation came after Supervisor Miller had requested a discussion of unused budgetary items that could possibly be reallocated toward road repair in the whole county before fiscal year end. Not a small amount either, Miller claims she can point to $100 million within the current budget that could be reallocated toward road repairs. Miller's recommendations were never fully heard however by the other board members, instead the other members acted precariously and in apparent collusion as retribution for this act.
Residents of District 1 are upset and fighting back this week through numerous emails from neighborhood associations and written complaints filed with Arizona Attorney General's office. Individual supervisors are held personally responsible for open meeting law violations and any fines levied if found guilty, we were told by the AG's office.
Statistical data for Pima County indicates the residents of District 1 (Sup. Ally Miller) have good reason to be upset. Their district pays the most billable tax revenue in the county, 33% of the total tax revenue collected, or $310 million. The next closest tax producer is District 4 (Sup. Ray Carroll) that pays $215 million, $100 million less than District 1, but still 23% of the total county revenue.
These two districts (District 1 and 4) combined, account for 56% of the total county tax revenue collected, with the remaining three districts in aggregate accounting for the remaining 44% of tax revenue.
The net tax billed per district uses the 2015 parcel list and matches it to the 2013 tax roll as shown in the following pie graph.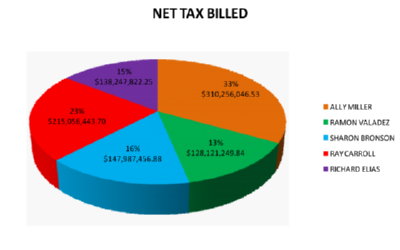 The number of properties per district based on the 2015 property roll (not tax roll). 2013 parcel information and its associated board district are no longer available.
A group has been formed to fight back the mismanagement of tax dollars in Pima County. To contact these citizen activists email fixpimaroad@gmail.com as they encourage everyone to get involved.