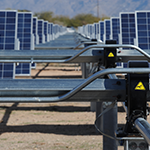 TUCSON - It's a banner year for the Air Force with the Department of Energy (DOE) recently announcing that service won a lion's share of 2014 Federal Energy Management Program awards.
The Air Force won its most ever: eight of the 25 projects or programs selected as deserving of this year's coveted FEMP awards. In total, 10 government agencies won awards including the Navy with four and the Army with one.
The Air Force Civil Engineer Center received 29 nomination packages from across the Air Force and culled them down to 15, the maximum accepted by DOE.
Davis-Monthan AFB Energy Team worked with numerous agencies and programs, including the utility company, to upgrade 580 taxiway lights to LEDs, and 53 boilers and lights in 14 hangars and warehouses. Angela Flores, Gustavo Gonzalez, Greg Noble and Richard Whitaker worked together to add a new electric chiller plant and distribution loop. The multiple energy projects around the base last year is expected to save $253,000 annually.
"The Air Force is doing great things to save energy, water and money," said AFCEC Director Joe Sciabica. "Work by Airmen, civilians and contractors over the past two decades has created a cost avoidance of $626 million, money that can be better spent executing the Air Force mission."
At Fort Huachuca, the Department of Defense awarded of $4 million to provide further protection from encroachment.
Fort Huachuca is one of two military installations in the country to receive the 2014 Readiness and Environmental Protection Integration (REPI) Challenge award for 2014. The funds will allow the fort to leverage $9 million more through contributions from partners that will permanently restrict development on 5,936 acres of ranch land on either side of Highway 82, north of the fort.
REPI Program Director Kristin Thomasgard-Spence said Fort Huachuca, Arizona, and Naval Air Station Patuxent River, Maryland, best demonstrated the spirit of the program to promote innovative land conservation solutions that benefit military readiness, neighboring communities, and the environment while helping installations reduce and avoid restrictions.
"DoD's ability to conduct realistic live-fire training and weapons system testing is vital to preparing warfighters and their equipment for real-world combat," Thomasgard-Spence said. "There is a direct relationship between realistic training and success on the battlefield."
A REPI Challenge award of $4 million for Fort Huachuca will leverage just over $9 million in partner contributions to permanently restrict development on 5,900 acres of ranchland, Thomasgard-Spence reported. Partnerships include Arizona Land and Water Trust, Arizona Department of Emergency and Military Affairs, U.S. Department of Agriculture, Natural Resources Conservation Service, the Bureau of Land Management, and the National Fish and Wildlife Foundation.
"This buffer protects more than 160,000 annual air operations and reduces proliferation of electromagnetic interference for 800 square miles of air space," she said. "Protecting these lands will prevent the development of up to 1,400 new wells, ensuring availability of scarce groundwater resources for the installation, the surrounding community, and the local native grassland habitat."