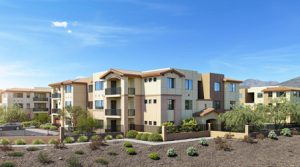 MARANA, Ariz. — November 9, 2023 — Dominium, a leading affordable housing owner, developer and manager, announced today that it has closed a deal to acquire land for the development of a new affordable housing community in Marana, Ariz.
Dominium plans to use the land located at 8740 N Silverbell Road in Marana to develop an affordable housing community for low-income families in the Marana area. Once constructed (estimated in fall of 2025), The Safford will provide 200 high-quality apartment homes. This project will be constructed by WD Construction.
"Dominium is proud to help provide vital, affordable family housing in Marana and provide an asset to the broader community," said Owen Metz, Senior Vice President, Regional Development Leader for the Mountain West region and Phoenix office.
The Safford, along with the recent grand opening of 308-unit Vista Ridge in Phoenix and the groundbreakings for 396-unit Estrella Springs and 261-unit Suncrest Vista in Goodyear, are part of Dominium's $1 billion pipeline of affordable housing in Arizona.
The land closed on April 18, 2023, for $3.85 million ($4.76 PSF) see Safford Affordable Apartment Site Sold with Entitlements for $3.85 Million - Real Estate Daily News (realestatedaily-news.com).
Construction of The Safford will be supported by the Section 42 Low-Income Housing Tax Credit program (LIHTC). Nationwide, LIHTC is the largest source of support for the construction and maintenance of affordable housing communities. In exchange for tax credits, affordable housing developers and operators agree to maintain rents at levels tied to the Area Median Income (AMI). Construction of LIHTC properties has a positive effect on the local housing market through the simple fact of increasing the supply of affordable housing.
Dominium would like to thank its development partners Cedar Rapids Bank & Trust, Greystone Housing Impact Investors (AKA ATAX), Colliers Securities, WNC, Arizona Department of Housing and the Arizona Industrial Development Authority. Additional partners include Langston Hughes Affordable Housing, the Town of Marana, Winthrop & Weinstine, Holland & Knight, Paradigm Designs, Todd & Associates, RICK Engineering, Commercial Partner Title, Kutak Rock and U.S. Bank. We appreciate all of these partners for their commitment to providing high-quality affordable housing to the Marana community.