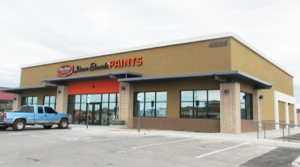 TUCSON, ARIZONA – An affiliate of the Dunn-Edwards Corporation, one of the nation's largest independent manufacturers of architectural, industrial and high-performance paints recently bought its latest Tucson store at The Landing for $3.625 million ($628 PSF).
The 5,800-square-foot build-to-suit was completed in 2021 at 4625 S Landing Way in Tucson for Dunn-Edwards as tenant. The Landing is a Bourn Properties development, located directly along the main corridor from Mexico to Tucson. It is a 65-acre mixed-use project designed to appeal to visitors and the surrounding community alike. An eclectic mix of retail, restaurants, office and hospitality encircle a vibrant family-friendly zocalo-like plaza with local food, retail, entertainment and amusements.
Dunn-Edwards was founded in Los Angeles, and has its roots in the Southwest, operating 130 stores along with 80+ authorized dealers. Dedicated to preserving and protecting the environment, Dunn-Edwards produces its coatings in a LEED® Gold-certified manufacturing plant.
Irvington Interstate Partners East, LLC an affiliate of local developer, Bourn Properties (Don Bourn, Manager) was the seller.
The transaction was principal to principal.
To learn more, see RED Comp #8585.