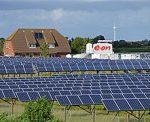 TUCSON, AZ – E.ON Climate & Renewables (EC&R) Solar held a dedication ceremony Monday of its first two solar photovoltaic (PV) projects in the Tucson, Arizona area delivering a combined total of 15 megawatts (MW) of solar capacity. Both projects have long-term power purchase agreements (PPAs) with Tucson Electric Power (TEP).
"These are our maiden solar facilities in the U.S. and signal E.ON's commitment to solar development in the U.S. market," said Steve Trenholm, Chairman E.ON North America.
Dr. Christophe Jurczak, CEO of E.ON Climate & Renewables Global Solar added that E.ON plans to continue to deliver innovative technological solutions to an ever changing world. "I am happy to say that these two projects are among the most technologically advanced solar PV projects in the world."
In a statement, Congressman Ron Barber of Arizona praised the economic development opportunities that solar power brings to Arizona and the local community. "Solar-generating capacity in the United States continues to grow each year. I am proud that Arizona is a solar leader with nearly 10,000 people employed in my state's rapidly growing solar industry."
The first of the two projects, a 5 MW project called Tech Park Solar (TPS), was developed in collaboration with the University of Arizona Science and Technology Park (UA Tech Park) and TEP.  The project started generating power in December 2012.
"The Tech Park Solar installation is an excellent example of cutting-edge technology being showcased at the UA Tech Park's Solar Zone," said Ken Marcus, Director and UA Tech Park. The Solar Zone is home to installations by seven companies using nine different solar technologies.
The second, 10MW, project, Valencia Solar, came online in June 2013.
"We've been consistently impressed by E.ON. The company offers innovative tracking technologies and their employees possess strong expertise in renewable energy. E.ON is easy to work with and we would be pleased to work with them again," said Carmine Tilghman, TEP's Director of Renewable Energy.
During the ceremony, E.ON donated $10,000 to Casa de los Ninos, a local non-profit organization dedicated to preventing and treating child abuse and neglect in Tucson. "The depth of their compassion matches their resolve. This year marks their 40th year of delivering critical services to the most vulnerable people in the Tucson area," said Trenholm.
E.ON Climate & Renewables (EC&R), headquartered in Essen, Germany, is responsible for E.ON's large-scale renewable energy activities. EC&R plays a leading role in the development of the renewable industry worldwide and is already active in onshore and offshore wind, photovoltaic, and concentrating solar power (CSP). E.ON currently operates over 9 GW of renewable capacity including large hydro. Since its formation in 2007, EC&R has already invested more than 9 billion Euros, including more than $5 billion in the U.S solar and wind facilities, and will continue to expand the share of renewable energy in E.ON's power generation portfolio. For more information, please visit www.eon.com/renewables.
Tucson Electric Power provides safe, reliable electric service to approximately 406,000 customers in southern Arizona. TEP was recognized this year as a leader in solar energy when it was included in two Solar Electric Power Association's (SEPA's) "top 10" lists of utilities that have added the most new solar power to their renewable energy portfolio, and the most solar on a watts-per-customer basis in 2012. TEP currently has more than 150 megawatts (MW) of solar generating capacity, enough to meet the annual electric needs of more than 30,000 Tucson homes. By the end of 2014, TEP expects to have more than 228 MW of solar generating capacity, enough to meet the annual electric needs of more than 45,000 homes. To learn more, visit https://www.tep.com/. For more information about TEP's parent company, UNS Energy (NYSE: UNS), visit https://www.uns.com/.
The UA Tech Park advances the University of Arizona's research mission and its efforts at technology development and technology commercialization.
The Solar Zone was developed in partnership between the UA Tech Park and Tucson Electric Power.  The Solar Zone at the UA Tech Park is one of the largest multiple tenant, multiple technology demonstration site in the United States.  The Solar Zone's comprehensive scope is key to its innovative approach to creating a regional solar-based economy.  At completion, the Solar Zone will accommodate all significant components of the solar energy continuum: generation and storage; manufacturing and assembly; research and development; workforce development; and education and public awareness.