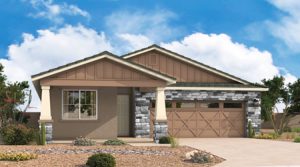 GOODYEAR, Ariz. (Oct. 12, 2023) – Positioning itself as a homebuilder dedicated to efficiency and performance, Beazer Homes is excited to announce the launch of its Energy Series READY Homes in the Acacia Foothills II neighborhood at Estrella.
Beazer prides itself on creating beautiful homes and building homes buyers feel good about owning. Beazer homes are built using materials that maximize efficiency and environmental responsibility.
For the past six years, Beazer Homes has been recognized by the U.S. Environmental Protection Agency's Energy Star Program as Partner of the Year for its commitment to creating energy efficient homes. In addition, Beazer has recently elevated its efforts by including EPA Air-Plus systems in its homes, increasing energy efficiency, and improving air quality.
The most energy-efficient homes built by Beazer today, Energy Series READY homes are so energy efficient that all or most of their annual energy consumption can be offset with renewable energy. Each will be certified by the U.S. Department of Energy as a Zero Energy READY Home.
"Every home we build is designed with cutting edge, energy-efficient features," said Ryan Johnson, Phoenix Division President for Beazer Homes. "With better home performance, customers can save money on energy bills, enjoy improved air quality for healthier living, and live more comfortably in their home."
Beazer Homes combine the highest levels of style, efficiency, and function. Every Beazer Acacia Foothills II home includes a great room concept creating comfortable living spaces for families of all sizes. That mindfulness, paired with the stunning views of the Sierra Estrella Mountains, results in a sanctuary homeowners cherish. Plus, each home is within walking or biking distance from neighborhood schools making them a great choice for growing families.
Beazer floorplans at Estrella include the Shiloh at 1,942 square feet, the Pinehurst at 1,842 square feet, and the Ellenton at 1,685 square feet. The single-story Ellenton offers three bedrooms, two bathrooms and a two-car garage. Its spacious great room opens to a covered patio, making it perfect for backyard barbecues.
The larger Pinehurst floorplan is also single-story with three bedrooms, two bathrooms and a two-car garage with the option for a fourth bedroom and two kitchen designs to choose from. Larger still, the single-story Shiloh, at 1,942 square feet, is designed with four bedrooms, two bathrooms, and options in both the kitchen and primary bath.
Additional floorplans include the Geneva, four bedrooms with an optional fifth, downstairs primary suite, 2 ½ bathrooms, 2,801 square feet; and the Forsyth, four bedrooms, 2 ½ bathrooms, 2,449 square feet.
For more than 25 years, Beazer has been a leader in building homes ahead of current standards and beyond expectations. Beazer was the first U.S. national homebuilder to publicly commit that by the end of 2025, every home built will meet the requirements of the DOE Zero Energy READY Home program.
The program incorporates building science innovations and practices to achieve at least 40 percent to 50 percent greater energy efficiency than a typical new home. DOE Zero Energy READY Homes are verified and certified by a qualified third-party inspector.
Beazer home include innovative, energy-efficient features to improve home performance and maintain ideal temperatures, giving homeowners control over their comfort. Each home is designed to filter indoor air, which reduces outside pollutants like mold and toxic chemicals. This means healthier living with improved air quality and comfort.