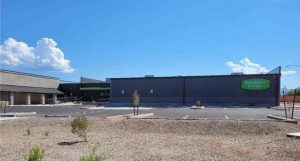 TUCSON, AZ (September 13, 2023) – The Extra Space Storage Facility at 2538 N Country Club Rd sold for $19,030,000, or $27,985 per unit, for the 680-unit climate-controlled facility.
VRE Storage Tucson, a Verdad Real Estate and Construction Services affiliate,  purchased the former Art Institute of Tucson building in October 2021 for $3.6 million to convert it into a self-storage. Verdad partners with Extra Space Storage and has a second facility at 770 N Kolb in Tucson.
The 50,458 square feet of buildings sit on 3.2 acres on Country Club, north of Grant Road in Tucson.
The transaction closed on August 30, 2023.
The investor is RPC Country Club Storage, LLC, of Dallas, Texas, c/o Greg Bates, manager.
The buyer and seller were self-represented in the transaction.
To learn more, see RED Comp #10875.