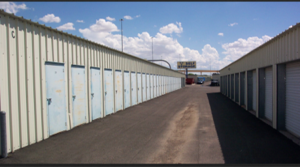 TUCSON, ARIZONA — Bill Alter is pleased to announce the sale of EZ 8 Self Storage located at 702 W. Silverlake Road in Tucson, Arizona.
The sale closed on February 28, 2019 for more than $2,150,000, which represents a price per square foot of about $60 and a cap rate of about 6%. The property was constructed in 1982 and consisted of 350 individual units, more than 90% of which were occupied at the time of sale.
The property will be managed by CubeSmart for the new owner.
The property was sold by one out-of-state investor, E-Z 8 Self Storage of Las Vegas to another out-of-state investor, MHC 51, LLC of Brooklyn, NY. This was Bill Alter's 164th self-storage sale.
For more information contact Bill Alter at 602-315-0771 or Bill@RGcre.com. You may also visit WWW.RGCRE/author/BillA
To learn more, login and see RED Comp #6613.