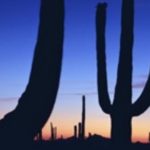 East Speedway Development, LLC of Tucson (Ray Schneider) acquired the home and 12.5 acres at 8200 E Speedway in Tucson after the passing of his friend, Jane Robb, who left a first right of refusal for it to him. Once the Trustee of the Estate, Wells Fargo Bank, had determined an appraised value, Schneider paid $820,000 for the 2,686 square foot house on 12.5 acres ($65,600 per acre) located between Pantano and Camino Seco on the eastside of Tucson.
This article has been archived, please login for access or subscribe now by going to the subscribe tab at the top of page.
[mepr-show rules="58038"]Schneider told us the property is currently zoned RX-1 allowing one unit per 36,000-square-feet, so he is considering rezoning it to a higher density. The home is in need of repairs, but functionally sound, and he is also considering fixing it up to live there. For the time being, he is exploring options by meeting with neighbors and Tucson Development Services to discuss possibilities. He knows the neighbors would like to keep it open desert but they know that isn't realistic, with the property surrounded by higher density residential, something the appraisal also took into account when valuing the property.
When asked the possibility of a commercial use, Schneider responded that he didn't think anything other than a higher density residential use would be a practical use. He wants to keep it residential, that will please the neighbors and in remembrance of his good friends who lived there for more than 30 years.
For the time being, Schneider says he just wants to get a feel of the land and the neighbors' wishes, before making any decision.
Schneider is a real estate broker with Ray Schneider Company of Tucson and self-represented himself in the transaction.  Schneider can be reached at (520) 869-1544 for more information.
Sale date: 8/23/2013. Buyer put $220,000 down and financed the balance with a private lender.[/mepr-show]