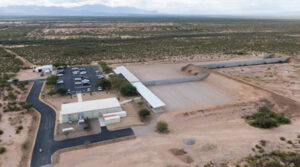 PIMA COUNTY, ARIZONA, (Jan. 27, 2023) – If you're new to the sport of shooting, Pima County Natural Resources, Parks and Recreation (NRPR) invites you to attend First Shots. This free firearms course, tailored for beginning shooters, takes place Saturday, Jan. 28, at the Southeast Regional Park Shooting Range, 11296 S. Harrison Road.   At First Shots, novice shooters have the opportunity to learn from certified coaches and experienced shooters about the safety protocols associated with shooting handguns and rifles.   The event is organized by the WildGats, the University of Arizona's nationally ranked shooting team, in collaboration with the Pima County Shooting Sports Program and the National Shooting Sports Foundation.
 "The goal is to teach individuals who are new to shooting sports how to handle and use firearms in a safe, effective and responsible way," said Shooting Sports Program director Cliff Gyves. "This course provides a supportive atmosphere for learning."
 Classes begin at 8:30 a.m., 10 a.m., or 11:30 a.m. The event is free, but spaces are limited so pre-registration is recommended. You can register at http://wildgats.clubs.arizona.edu.   The Shooting Sports Program also operates two other rifle and pistol ranges, two outdoor archery ranges and a clay target center. For locations and hours, visit www.pima.gov/shootingsports.