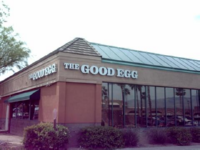 First Watch Restaurants, Inc. of Brandenton, Florida has acquired the Arizona-based restaurant company The Good Egg; including the brand, concept, all intellectual property and all 20 restaurants. Terms of the deal were not disclosed, but the move solidifies First Watch's position as the fastest-growing daytime-only company in the U.S.
According to public records, the 4,867-square-foot building at 4775 E Grant Road was sold for$1.4 million ($288 PSF). The restaurant sits on a 10,962 square-foot pad  in the Crossroads Festival Shopping Center at Swan and Grant Roads in Tucson. This was the only property we found transferring in the company acquisition for Tucson.
"This acquisition significantly accelerates our growth in a very desirable market and strengthens our scope and reach in the Southwest," said Ken Pendery, president and CEO of First Watch Restaurants, Inc. "The Good Egg is a well-established concept that was developed in Arizona, grew successfully, and has built a loyal and passionate customer base that we plan to nurture and grow."
The sellers of The Good Egg opened the first restaurant in 1987 at 13802 N. Scottsdale Rd.  Original partners Charlie Syburg and Tom Barnett grew the concept to a total of 20 restaurants through organic growth and acquisition. There are currently 15 restaurants in the metro-Phoenix market and five restaurants in Southern Arizona. As the concept grew, Matt Trusela and Frank Collins joined as operating partners and will continue in their roles providing leadership in Arizona.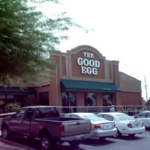 "Combining The Good Egg with First Watch represented a true strategic alignment and will provide our concept with the necessary resources to continue to grow," said Syburg. "Additionally, our employees who have made the Good Egg one of Arizona's best places for breakfast will have new and challenging career opportunities as part of First Watch's aggressive national growth plans. We are grateful to our loyal customers and confident that this combination will continue to provide them with the service, quality and value they have come to expect."
Kevin Hall, one of First Watch's most seasoned operators with more than 20 years of experience with the company, will lead the operations of The Good Egg restaurants working closely with Trusela and Collins.  There will be no interruption in business as part of the transaction.
There are currently three First Watch restaurants in the Phoenix market which will remain open as usual following the transaction.