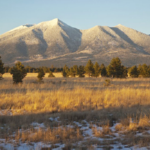 The Flagstaff AZDailySun.com is reporting that it took the city of Flagstaff nearly a decade to acquire the 2,251 acres of state trust land on Observatory Mesa, accomplished Friday. First, there were bond elections for the money. Then there was getting the land set aside for conservation purposes.
A matching grant had to be applied for and secured. And finally, Friday, the city put in the only bid of $11.6 million ($5,153 per acre) to officially buy the land.
"The process began in 2004 with a promise," McKenzie Jones, sustainability specialist for the city who manages the Open Space project said. "It preserves our iconic open space and defines this area, to make it a place we want to live."
"It's good to finally make good on that promise," she added.
City Manager Kevin Burke said a 2004 city bond initiative approved by voters set aside $5.5 million to preserve specifically the open space of Observatory Mesa.
In March, the state land commissioner allowed the reclassification of Observatory Mesa as suitable for conservation purposes through the Arizona Preserve Initiative, according to information from the city.
In September, the city was awarded $6 million from the Arizona State Parks Board under the Growing Smarter State Trust Land Acquisition Fund. With additional money left over from another bond initiative that allowed for the purchase of Picture Canyon, the city was able to make an offer on the appraised value of the land, Burke said.
More than 30 people were on the steps of the Coconino County Superior Courthouse at 1 p.m. for the auction, which was administered by Dayna Brown of the Arizona State Land Department.
Burke opened up with the opening — and only — bid.
The protected area will provide scientific benefits to the observatory, the U.S. Forest Service, the state's Game and Fish Department, and Northern Arizona University. The land will be available for recreation for the residents of Flagstaff and tourists who visit. The land will continue to be an area for wildlife.
The city plans to host a public celebration of buying Observatory Mesa in the summer of 2014.