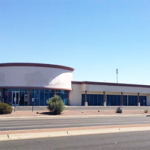 The Prince of Oracle LLC (Rick and Kevin Volk, members) purchased the former mixed use Carrington College complex at 3550 North Oracle in Tucson for $1.5 million ($30.18 PSF).
The property last occupied by Carrington College, was previously Apollo College, and transferred to Carrington in a non-arm's length transaction when Carrington College acquired the Apollo College business.
The 49,705-square-feet under roof property on a 3.1 acre lot is located at the southeast corner of Prince and Oracle. It was 100% vacant at time of sale. Rick Volk reported that the college had remodeled 30,000-square-feet of offices in 2005 and there is an additional 10,000-square-feet of retail space and another 9,000-square-feet of warehouse space, all approximate numbers.
The property was purchased for investment and redevelopment as needed for lease. Based on interest in the property so far, Rick Volk reported, it will probably remain a mixed-use of office, retail and possible warehouse space.
"We're excited about bringing the property back to market," Rick Volk said. "The property has been vacant too long at this significant traffic-count corner, with 80,000 vehicles per day, we're already getting interest from retail, office and even a school-use tenant."
Chris Hollenbeck with Cushman & Wakefield in Phoenix represented the seller, Spirit Realty Capital (NYSE: SRC) a Scottsdale-based net-lease real estate investment trust (REIT) that invests in and manages a portfolio primarily of single-tenant properties.
For leasing information, Kevin and Rick Volk can be reached at Volk Company in Tucson at 520.326.3200. Hollenbeck can be contacted at 602.224.4475 for more information on this transaction.
To learn more, see RED Comp #4024.