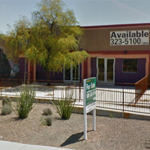 TUCSON, AZ – The former NIMBUS Brewery and Restaurant building was sold for $1.415 million ($168 PSF) for the vacant 8,439-square-foot restaurant located at 6464 E Tanque Verde Road in the heart of the restaurant district.
NIMBUS Brewery & Restaurant was a tenant and closed in 2013 after the brewery filed for Chapter 11. The landlord and seller was McMahon Properties, LLC of Tucson, owned by restauranteur, Bob McMahon, who in early 2014 also filed for Chapter 11 before the court converted it to Chapter 7 and ordered the liquidation of assets in May 2015.
This transaction was part of that bankruptcy sale and included restaurant equipment left in the building. The property is 2.19 acres of land zoned C-2 which allows for a restaurant or bar operation. It has approximately 154 parking spaces, almost double the code requirements for a restaurant.
The buyer is All Real Property, Inc. of Camp Verde, AZ (Shalom Laytin, CEO) that purchased property for investment. Jim and Ryan Egan of Prime Commercial Real Estate handled the transaction for the buyer.
Pete Villaescusa and Jesse Peron with CBRE in Tucson represented the seller.
To learn more Villaescusa can be reached at 520.323.5112 and Peron is at 520.323.5130. Jim Egan and Ryan Egan should be contacted at 520.512.1000.
For additional information login and see RED Comp #3125.