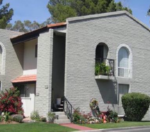 This article has been archived, please login for access or subscribe now for a free trial.
ROC II AZ Mission Palms, an affiliate of Bridge Investment Group Partners, LLC ("Bridge") of Murray, UT (John Pennington, Chief Compliance Officer) purchased the 360-unit apartment complex at 951 West Orange Grove in Tucson for[mepr-show rules="58038"]$25.65 million ($71,250 per unit /$68.78 PSF) from JIK Mission Palms, an affiliate of JI Kislak, Inc. of Miami, FL that has owned the property since 2000. The investor assumed an FHA loan and put $400,000 down in the purchase.
The two-story 372,928 sq. ft. class-B complex has 92 masonry buildings on 28.7 acres. Built in 1978, the community consist of 33% one-bedrooms and 67% two-bedrooms floor plans. The one bedrooms are 754 sq. ft. and the two-bedrooms range in size from 1,140 sq. ft - 1,309 sq. ft.
Back in the 1930s and 1940s, Mission Palms was known as "Rancho Nezhone" or Beautiful Ranch in Navajo. Raw desert land was cleared and a ranch, orchard, greenhouse, barn, and a 300-stone wall in front of the property, which still stands today, were built. The property was a retreat for such celebrities as Liberace, singer and actress Kate Smith, Gen. John Pershing, and William Boyd (aka Hopalong Cassidy). After almost two decades as a guest ranch, the main house was converted to apartments, a dining room was built, and the property became a guest resort and supper club. In 1976, the monkeys and parrots were removed from the property, and the property became as it's currently known, Mission Palms Apartments
The current property includes such amenities as two pools, tennis courts, a clubhouse, a putting green, a one-mile walking trail and as much citrus as one can manage to collect. In addition to year-round good weather, residents are also given a complimentary membership to a local gym.
Bridge, the new owner, is an investment advisory firm whose principals have a 22 year history of success in the multifamily and commercial office real estate sectors. It purchases real property and real estate backed loans at attractive valuations, build significant value through internal and affiliated operational expertise, and exit such investments once the improvements have been put in place.
This is the firm's third multifamily investment in Tucson. Bridge also owns through affiliates, the Mirabella Apartments at 1345   S Kolb Road and San Marin Apartments at 5650   S Park Avenue in Tucson
The principals at Bridge possess extensive experience in all facets of real estate investment. This includes development, management, operations and financial engineering, and spans all major asset classes especially the multifamily apartment and commercial office sectors. Bridge owns, manages and operates, through privately held real estate investment vehicles, over 20,000 apartment units and over 1.5 million square feet of commercial office space, as well as select other real estate assets.
Art Wadlund of Hendricks Berkadia in Tucson negotiated the transaction for the seller.
Kislak can be contacted at (305) 364-4100. Pennington is at (801) 716-4553. Wadlund should be reached at (520) 299-7200.
[/mepr-show]
Login to view additional information for subscribers only. [ismember] The following income information was annualized from April 2013 year-to-date. Property sold with GPI of $3,400,835. It was 98 % occupied at time of sale and sold with rental loss of $383,891.  Miscellaneous income of $325,155 was reported, with total operating expenses of $1,534,480. Reserves were estimated at $300 per unit for total operating expenses of $1,642,480. Property sold with an NOI of $1,699,619 and a reported 6.63% cap rate. [/ismember]