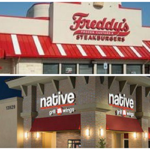 Brenna Lacey and Dave Hammack of Volk Company in Tucson negotiated for the seller, Evergreen-Steam Pump, L.L.C. in the sale of two pads at Steam Pump Village in Oro Valley, Arizona for a total of $1.475 million:
Steampump Native purchased approximately 58,072-square-feet of land at 11107 North Oracle Road for $825,000 ($14 PSF)
Steampump Freddy's LLC purchased approximately 67,751-square-feet of land at 11143 North Oracle Road for $650,000 ($9.59 PSF)
Freddy's Custard & Steakburgers' restaurants average between 3,200- and 3,500-square-feet and typically have indoor seating for roughly 100 individuals, with additional seating on the patio. Drive-thru service is also available.
This will be Freddy's 4th location in the metro Tucson region.
In 2014, Native New Yorker officially updated its name to Native Grill & Wings. These days, a strong leadership team has majority ownership of the company. Together with the founding family and a growing group of franchisees, the new owners are working toward expanding Native Grill & Wings and receiving nationwide recognition. Recently named on Restaurant Business Magazine's Future 50, Native has become known as a polished family-friendly sports grill that proudly offers over 20 wing flavors that guests can still order by the each!
Typical restaurants average between 5,000- and 5,600-square-feet. This will be Native Grill & Wings 5th restaurant in the metro Tucson region.
The buyer is a developer for both restaurants.
Steam Pump Village is a 42-acre, mixed-use project containing other businesses and amenities such as Basis School, Chili's, Quik Trip, Holiday Inn, Tucson Children's Museum, and new luxury apartments by HSL.
For more information, Lacey and Hammack should be reached at 520.326.3200.
To learn more see RED Comp #4204 and #4205.