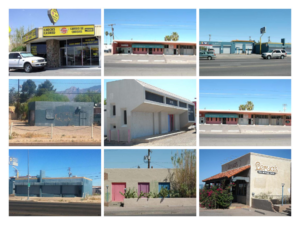 Properties along Broadway from Euclid to Country Club are being held hostage waiting a decision for Broadway Boulevard alignment. Properties owners and small businesses along the Broadway expansion corridor are tired of waiting and simply want a proposal to pass by the Broadway CTF and work to finally begin. The final meeting of Tucson's Citizens Task Force (CTF) for the Broadway Boulevard Expansion will be held tonight. This will be the last opportunity to voice an opinion before final recommendations go before the Mayor and Council on June 9th and seal the fate of all the small business owners and property owners who have been patiently waiting since 2006 when the decision by the voters was made for the $72 million initiative.
The project is expected to ease congestion and create an eastern gateway to revitalizing Downtown Tucson.
One of the property owners told us that when he moved there in 1986 they were already talking about Broadway widening. Basically, property owners along this stretch have been held hostage for a very long time waiting confirmation; "we can't sell our buildings because nobody wants to buy a building destined to be demolished, and we can't put any money into the thing to paint it or make improvements, because we won't ever get that money back from the city,"  when they come in to condemn it.
 Photos shown in this article are only a portion of the businesses affected, from the north side of Broadway only, there are more on the south side of Broadway as well.  For Thursday's meeting agenda CLICK Here.
The status of the Broadway widening was summed up by Ward 6 Councilman Steve Kozachik in his newsletter this week that we reprint here:
There's a lot of design work left to do on the Broadway project. Whereas Grant has an alignment established, and now we're just working on the land use details, Broadway is still working towards an alignment of the roadway. That'll introduce the land use discussions that are yet to come.
The next CTF meeting is this Thursday, May 7th at 5:30pm. It'll be held at Our Saviors Church again – 1200 N Campbell Ave. The goal is for that group to finalize a proposed alignment that'll come to M&C on June 9th for us to consider. That's a key step in this process, as it will open the door for real estate and our civil engineering staff to begin approaching property owners along the corridor and working on solutions for them to stay up and running or to relocate. Without an alignment to work from, those contacts cannot happen.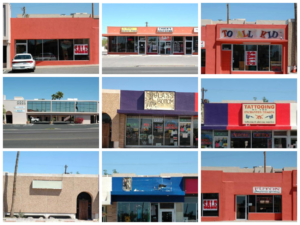 Last week, I asked staff to do a walking tour of the entire length of the corridor from Euclid to Country Club, maps in hand, to look at the challenges each property owner will face with the draft alignment the CTF will see on Thursday. I owe a debt of thanks to those who participated: Beth Abramovitz (civil engineer on the project), Nicole Ewing-Gavin (Office of Integrated Planning), Phil Swaim (consulting architect), and Gene Caywood (consulting transit advocate). I also dragged along both Alison and Mark from my office. Since it was the hottest day of the year so far, all were thrilled to take me up on the offer.
Here's an example of why the alignment is so important. Tucson Tamale Company and its co-tenants in Solot Plaza are going to lose parking. There are about 14 tenants in the center, each of which will need to decide whether or not they want to work together and figure out joint parking arrangements. Those conversations can't happen until we finalize the alignment. Once we do, staff and our consultants can begin approaching individual property owners and explaining some options. As we learn which of them want to remain and which want to relocate, that information will open the door for creative parking and access solutions for those who choose to stay in their buildings. For example, if two or three of them want to go and those existing buildings are taken down, the new space can serve as a parking remedy for the businesses that remain. There are lots of moving parts to this, but the first step will be laying the draft alignment down on a map to serve as a starting point for those negotiations.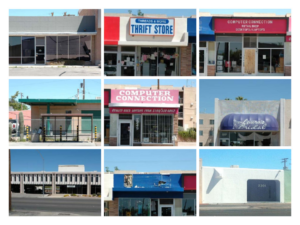 The City cannot compel solutions, but we can put the players together, show them options and let them sort out how they want to move forward. An example in the case of Tucson Tamale would be for them to approach the property owners who sit to the west and talk about leasing some of the covered parking you see at the edge of the picture. That's just one of many options they'll have to consider.
Another important piece of this is, of course, the budget. On our walking tour we identified some locations where, based on the existing draft proposed alignment, there are buildings on both the north and south sides of the street that are potential full acquisitions. Where we can shift the alignment one way or another, we can save the buildings on the opposing side.
Where there are significant cost implications for preserving one over the other, staff will take those factors into account as they refine the alignment.
There will likely be a loss of some contributing historic structures that sit on the south edge of the Rincon Heights neighborhood. In order to protect their status as a Registered Historic neighborhood, I've already confirmed with staff that the project can pay to have the boundaries of their neighborhood redrawn so the loss of individual structures will not impact the percent calculation they need in order to maintain their Historic designation.
This began in 2006 with the voters saying they wanted to eliminate about 120 private residences and businesses along the north side of Broadway in order to accommodate a 150' wide, eight lane roadway. Getting to the point at which we now find ourselves is a huge win for the community.