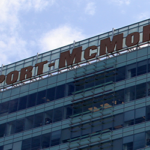 The gold and copper mining company Freeport-McMoRan Inc. announced that it has sold its interest in copper and cobalt projects in the Democratic Republic of Congo for $2.65 billion in cash to Chinese mining company China Molybdenum.
Freeport McMoRan is also in negotiations with the Chinese firm over the sale of Freeport's stake in the Kokkola Cobalt Refinery in Finland for $100 million and the Kisanfu Exploration project in the Democratic Republic of Congo for $50 million.
The sale continued their substantial effort to cut costs and sell assets in order to reduce its long-term debt that totaled nearly $20 billion at the end of 2015.
The Phoenix-based Freeport-McMoRan has sold more than $4 billion in assets since the beginning of 2016 in an effort to level its balance sheet. In February, a 13% stake in the Morenci mine in Arizona was sold to Sumitomo for $1 billion. The second major sale was a Serbian copper mine to Lundin Mining for $263 million.
Shares of Freeport-McMoRan Inc. (NYSE:FCX) have fallen 54 percent over the past year.